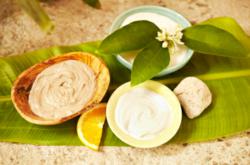 San Francisco, CA. (PRWEB) June 30, 2013
Natural health consumers have a new eco-friendly option for treating sweaty, smelly feet and Athelete's fungus with Zion Health's FootMask. This natural clay cream utilizes a unique type of clay called calcium montmorillonite (Kanwa) well known for its natural detoxifying agents and anti-fungal properties. FootMask is now available online at http://www.swansonvitamins.com.
Clay has been used for centuries as a natural detox remedy and healing agent for the skin. Michel Abhesera notes in his book "The Healing Clay 1996," Bentonite Montmorillonite clay was called "Ee-Wah-Kee," by Native Americans meaning "The Mud That Heals." Native cultures commonly used clay to treat wounds and numerous skin ailments.
Along with Montmorillonite clay, FootMask has the added ingredients of oregano and tea tree essential oils. Well-recognized for their antiseptic properties, these oils are known to help fight bacteria and fungal infections. FootMask also contains soothing chamomile extract for dry, itchy and irritated skin. According to "The Encyclopedia of Medicinal Plants 2010" chamomile is used medicinally for its anti-inflammatory effect.
Zion Health is pleased to announce the debut of FootMask at Swanson Health Products' online store. Wellness visionary Leland Swanson opened his nutritional supplement business in 1969 with a passion for improving the health of his fellow countrymen. He vowed to "provide the world's finest dietary supplements at the lowest possible prices with honest, outstanding customer service. Today, Swanson continues to reach his goal with the addition of Zion Health's FootMask to his online store at http://www.swansonvitamins.com.
Clay skin care products from Zion Health are naturally sourced, sustainable and eco-friendly. Zion's clay skin care line is available online at http://www.swansonvitamins.com, and at health food markets and co-ops throughout the United States and Canada. Zion provides its consumers with pure skin and body care products that are vegan, free of parabens and aluminum and formulated using certified organic ingredients whenever possible. For more information on Zion Health products, go to http://www.zionhealth.com.