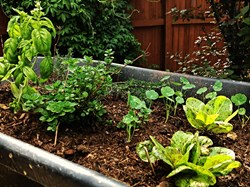 These skills allow them to open the door to a healthier life
Flagstaff, Arizona (PRWEB) June 29, 2013
Flagstaff's four seasons and mild summer makes for a challenging gardening foundation. Back2Basics Outdoor Adventure staff and residents rise to the occasion, with the help of B2B culinary director, Kathy DuPrez to facilitate a working garden onsite. "I think this is a great opportunity [for the residents]. Prepping the soil, planting the seeds, caring for and nurturing them, watching them grow; it's a process and it's important in their own recovery," explains DuPrez. DuPrez completed the Master Gardener Program through Arizona State University in 2011 where she was taught the basics of gardening. From what can and cannot be grown in Flagstaff, to learning the different types of soils, to how to care for and successfully keep plants alive- DuPrez passes along her green thumb to the residents of Back2Basics.
Earlier this year the residents built gardening beds and have already grown lettuce, chard, spinach, herbs, chives, mint, thyme, oregano, strawberries, and a variety of peppers. After they have ripened and reached maturity, the residents use the fruits, vegetables, and herbs in their everyday cooking at the house and in their weekly culinary class.
Roy DuPrez, CEO and Founder of Back2Basics recently ate a full salad made solely with ingredients from their gardens. "It was amazing!" DuPrez exclaims. "Knowing where your food is coming from, and getting to enjoy something you put so much time and effort into growing, makes it taste all the better."
More than just gardening, Kathy sees this as a sort of recovery in itself. "I've seen a lot of guys come in to this program thinking they'll get better and stop drinking or using. They don't realize the work involved; it is a total lifestyle change. We are doing our job by introducing them to a better lifestyle; a new lifestyle for them to continue to use and practice for the rest of their lives. Gardening is just the beginning." Graciela Del Moral, Cofounder of Back2Basics, also values the importance of what they're teaching the residents. "It takes a big push and a lot of work for recovering addicts to get to a healthy place. These gardening and eating habits are just part of the solution. These skills allow them to open the door to a healthier life."
With plans to build a green house in the near future, where hopefully they can plant and cultivate their own seedlings, the garden and Back2Basics residents will continue to grow and flourish.