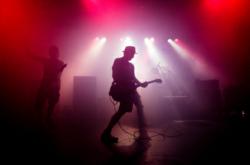 HillTop Records is constantly on the lookout for new avenues for songwriters.
Los Angeles, CA (PRWEB) June 29, 2013
For the third year in a row, HillTop Records will launch its own high-tech version of a traditional summer music festival – conducted entirely online! The festival, created to promote and celebrate America's up-and-coming songwriters, is completely free to attend and enter. Last year, the event drew over 300,000 page hits and immeasurable exposure for participating songwriters. This year, it promises to be even bigger and better than ever before.
The HillTop Records Online Music Festival for Songwriters is open to anyone with Internet access. Songwriters may enter their songs (mp3 versions) free of charge, as long as they own the copyright to the song (words and music.) No instrumentals will be accepted, and the words must be in English. Each song may be entered in one of five genre categories: Rock, Pop, Country, Gospel, and Urban/R&B. Prizes of $250 will be awarded to the best song in each of these five genres, as determined by a panel of expert judges. Additionally, one songwriter will take home The People's Choice Award of $500, and one song will win the Grand Prize Award of $1000 and the Festival Blue Ribbon.
Each participating songwriter may create his or her own unique songwriter homepage and link it to personal Facebook, Twitter, YouTube, and other social networking accounts for promotional purposes. This is to emphasize the main goal of the HillTop Records Online Music Festival for Songwriters: to give America's up-and-coming songwriters the exposure and support they need to succeed. HillTop Records kindly requests that established songwriters (those who already make a significant portion of their income from the songs they write) step aside to allow the event to focus on less well-known songwriters.
HillTop Records is constantly on the lookout for new avenues for songwriters. The company maintains a strong online presence, and has recently redesigned their website – http://www.hilltoprecords.com. New features and services include music video production, and the ability to buy individual tracks for only $1.99 per mp3 directly from the website. Visitors to the site may also now view video interviews with some real HillTop Records songwriters.
To find out more about HillTop Records' services, visit their official website. You can also follow on Twitter @HillTop Records, or catch up on the latest music industry news on HillTop Records' official blog. More information on this summer's Online Music Festival for Songwriters can also be found at http://www.hilltoprecordsmusicfestival.com.