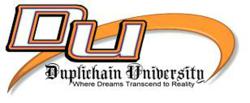 Lake Charles, LA (PRWEB) June 28, 2013
Duplichain University, founded in 2008, celebrated its first graduation commencement on June 2, 2013 at the Lake Charles Civic Center. Thirteen graduates obtained their Master's and Doctoral Degrees in areas of Education and Criminal Justice.
Dr. Boyce Williams, Senior Vice President and Chief of Staff for the National Association for Equal Opportunity in Higher Education, served as the keynote speaker. The motto of Duplichain University is "Dreams Transcend into Reality." Duplichain University was founded with an administration of retirees who joined forces and volunteered their serves to work together and successfully establish a distant learning university based on unity, respect, and hard work.
Duplichain University is a global online learning institution offering undergraduate and graduate degrees in education and criminal justice. Duplichain University offers an innovative learning approach in a supportive, nurturing and flexible academic environment. Students enrolled in Duplichain University develop, refine, strengthen, and enhance their skills in a discipline of their choosing, while maturing academically, intellectually, and personally.