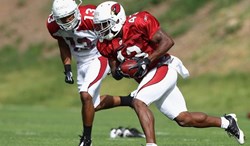 Rolling Hills Estates, CA (PRWEB) June 27, 2013
#23 Desia Dunn, who plays nickel for the CFL's Winnipeg Blue Bombers, is playing against the Montreal Alouettes tonight in the team's first regular season game. Dunn signed with Winnipeg March 7, 2013.
Another of Jill Baxter's clients Coach Will Plemons was the defensive coach at Fresno State when Dunn played at corner for the Bulldogs. Plemons now coaches at the Winnipeg Blue Bombers as the Defensive Line coach.
Agent Jill McBride Baxter says, "I'm excited to see Desia Dunn back on the field tonight. He's had a great preseason so far and hopefully he'll be able to carry it over to the regular season."
For more information on Desia, please visit: http://www.jillmcbridebaxter.com/clients/userprofile/desiad