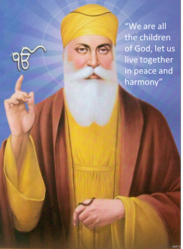 Truth is higher than everything, but higher still is truthful living.
Plainview, NY (PRWEB) June 28, 2013
'God is one foundation' will be depicting the mission of Guru Nanak through 150 photographs. They will be exhibited in a fair being held in the Gurdwara at Glen Cove, NY from 12-6 PM on Sunday, June 30, 2013.
The mission of Guru Nanak was as follows:

There is one God.
His name is true.
He is creator of everything.
He is fearless and without hate.
He is eternal being beyond time.
He is not subject to birth and death.
He is self existent.
He is known by the grace of God...
Guru Nanak preached to people of all religions to live together and righteously practice divine virtues in their daily lives.
He uplifted the poor and oppressed.
He stressed restoring universal brotherhood, a noble and pious human society, thereby bringing peace and prosperity to humanity.
Guru Nanak launched the Lord's mission of universal brotherhood and peace in Indian sub-continent and other places like Tibet, the Middle East, and Central Asia.
During his extensive travels, he went to the places of worship of all denominations. He established centers for preaching God's mission all over the places he visited.
Guru Nanak has over 20 million followers called "Sikhs" mostly centered in Punjab, the Northern part of India, but also spread all over the world.