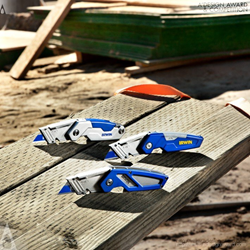 Como, Italy (PRWEB) June 28, 2013
A' Design Award and Competitions are happy to inform that the work FK Series by Jim Kershaw for Irwin Tools has been granted the prestigious Platinum A' Design Award at Prosumer Products, Tools, and Machinery Design Category and chosen as the winner by the respected jurors of the A' Design Awards & Competitions among a great number of participants.
About FK Series
The next generation of IRWIN Folding Utility Knives with BladeLock Technology feature patented technology engineered to keep the blade locked in, preventing it from releasing while the knife is in-use. These durable folding utility knives also feature a compact, easy-to-use design which includes a liner lock for safe, one-handed operation and a 16 degree cutting angle for ultimate comfort and control. The set of Irwin Knifes is composed by compact yet durable model FK100 and versatile with a built-in blade storage and screwdriver model of the FK250.
To learn more, please visit: http://www.adesignaward.com/design.php?ID=28369
Team Members for FK Series
FK Series was conceived by designer Jim Kershaw, engineer Greg Parker, project manager Jarrod Daughtry and communication manager Erin Dyer.
The Platinum A' Design Award
The Platinum A' Design Award is a prestigious award given to top 1% percentile designs that has accomplished an exemplary level of greatness in design. The designs are judged by a panel of three different jury which is composed of Academic, Professional and Focus Group Members. The designs are evaluated with score normalization to remove any biases and are voted on aspects such as functionality, ergonomics, engineering, presentation, innovation, usability, fun details, technology, and any other specific points that could be considered, each of these points are further weighted for different jury groups.
About A' Design Award and Competitions
A' Design Award and Competitions, aims to highlight the excellent qualifications of best designs, design concepts and design oriented products. A' Design Award and Competitions are organized and awarded annually and internationally in multiple categories to reach a wide, design-oriented audience. Learn more: http://www.whatisadesignaward.com