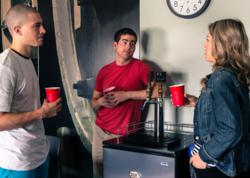 It's all about rules. There's a one beer limit and you can't drink until 4pm. It's more about the bonding than it is about the beer.
Buffalo, NY (PRWEB) June 28, 2013
This week, a few major publications began circulating reports of a growing number of companies allowing their employees to enjoy a beer on the clock. KegWorks, a beer-centric retailer from Buffalo, NY, doesn't see the information as breaking news, as they've been doing it - and writing about it - for close to 15 years.
KegWorks is a leading provider of home and professional draft beer equipment, bartending tools, wine and cocktail supplies, and novelty drink accessories. Because their business revolves around liquid culture, it would almost be counterintuitive to prohibit employees from enjoying some beer on the clock.
David Rivers, the company's president and "Minister of Culture," says that he's been offering this perk to his people since he started the company out of his apartment back in 1998. "Back then, there were only two of us, so we didn't have a one beer limit. And we often started drinking quite a bit earlier."
While the company now has close to 50 employees, and the beer benefit has changed a bit, it's still in full swing. Employees are allowed one beer every day, anytime after 4pm, or "Beer O'Clock," as they call it. The beer flows from a kegerator permanently stationed in their break room, and the selection constantly changes.
"From PBR to Founders Breakfast Stout, we've had just about everything," Rivers says. "We want to accommodate every taste in the building. If people don't like what we're offering that day, week, or month, they're free to bring in a six-pack and stick it in the fridge. When the clock strikes 4, they can grab one of their own beers instead."
The Wall Street Journal, one of the major outlets that picked up the story this week, quoted a few people who disagree with this pint-sized perk. They argue that the cons outweigh the pros, but KegWorks disagrees. "It's all about rules," says KegWorks Content Writer, Caleb Houseknecht. "There's a one beer limit, and you can't drink until 4pm. It's more about the bonding than it is about the beer. No one's getting drunk. It's just really nice, at the end of a long day, to get together with a few coworkers and decompress over a pint. It's also a nice 'thank you' from the company."
For more information on this story, see the article posted on the KegWorks blog.