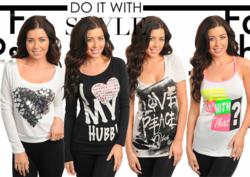 Fashion And Quality At The Best Price
(PRWEB) June 28, 2013
This Los Angeles based clothing wholesaler has been supplying discounted clothing to its fashion savvy business customers for the past few years and has become a highly regarded player in this industry.
They stock the latest in hot fashion wear, accessories, handbags and shoes, along with beauty products and full outfit ranges for leisure, work or more formal events.
WholesaleFashionSquare.com stock both men's and women's clothing and along with their already heavily discounted prices they offer daily deals, which are great for small businesses or exclusive boutiques looking to carry the finest designer-inspired apparel at the best deal.
Regular customer Chantelle Brown loves the new range: "Wholesale Fashion Square is my favorite online store for the latest wholesale dresses and I'm always excited when they get new stock. Their latest range of wholesale clothing has surpassed my expectations and is completely hot on trend for this season."
WholesaleFashionSquare.com allows their customers the opportunity to enjoy stocking the latest high fashion items such Skirts, Sweaters, Jackets, Rompers, and more, at heavily discounted prices. Sourced from hundreds of local manufacturers and importers from around the world, the stylish clothing, jewelry and fashion accessories are bought in bulk, so that the savings can be passed along to each Wholesale Fashion Square customer.
Wholesale Fashion Square offers a simple and effective way to shop online, whilst experiencing the satisfaction of knowing you bagged the best deals for your store.
Wholesale Fashion Square pride themselves on providing great prices, great service and an outstanding selection, to give each and every customer a competitive advantage.
For further information visit: http://www.wholesalefashionsquare.com