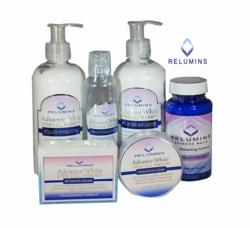 "I recommend Relumins products for multiple skin problems, regardless of the condition customers are always happy with their Relumins products." -Suzzy founder of Flawless Beauty and Skin, a New Jersey based skin care spa
Asbury Park, NJ (PRWEB) June 27, 2013
Relumins, a brand known for their pharmaceutical-grade skincare, has developed a new line of body lotions and an Intensive Repair Solution that combines anti-aging and skin whitening properties. The Relumins scientists and product engineers created the Hydration Complex, a combination of TA – Stem cell, hyaluronic acid and placenta proteins that are the hallmark of their new product line. The new products include an All in One Day lotion, Intensive Repair Night Lotion and the Intensive Repair Solution, that target signs of skin aging, while hydrating and repairing damaged and tired skin cells.
Placental proteins are highly recognized in the cosmetic industry for their skin whitening benefits, and are most popular in Japan. Placental Protein actively controls melanin production by influencing the activity of tyrosinase, an enzyme related to the skins production of melanin, to whiten, even & brighten the skin & complexion. However the power of placenta protein is beyond skin whitening. Rich in amino acid and nutrients, placenta proteins stimulate skin cells to be revitalized and renewed. Using placenta proteins will visibly reduce the appearance of fine lines and wrinkles.
The Relumins line of TA-Stem Cell Therapy products uses Biocellact CHAMOMILLA BD a natural anti-aging ingredient extracted from Chamomile flowers, to slow down aging and production of TA-Stem Cells causing a delay in skin wrinkles and dryness. Laboratory tests not only prove that Biocellact CHAMOMILLA BD slows down aging of TA-stem cells but keeps them in vital condition. Keeping the TA-Stem cells in vital condition, with the combination of stimulating collagen, delays new wrinkle formation and allows skin a smoother, firmer, more youthful appearance.
Hyaluronic acid is naturally found in the body, in tissue and both the dermis and the epidermis layers of skin. Hyaluronic acid works by acting as a cushion and lubricant in the joints and other tissues. Hyaluronic acid in the body repairs and protects skin tissues, and stimulates elasticity of the skin. Hyaluronic acid is also responsible to how your body reacts to injury and is a natural UVB protectant.
Relumins first unveiled this powerful combination in the Relumins TA Stem Cell Day cream. Now with the addition of 2 powerful lotions and the Intensive Repair solution, they have a comprehensive product line. These amazing new formulas are designed to repair, hydrate and whiten skin, which help you achieve a healthy even glow. The active ingredients are designed to hydrate and deeply absorb into the skin. Having the lotion and solution penetrate deep into the skin's layers, allows the ingredients to breakdown dark pigments and prevent new pigment formation. Placental Proteins are also used to help revive tired damaged skin as well as stimulate healthy skin repair.
Relumins TA- Stem Cell formula for day cream and the new all in one day body lotions are also industry leading products that incorporate broad spectrum UVA/UVB sun protection, which helps prevent premature aging. Relumins products are PABA free and avoid chemical sunscreens; instead they use the most recommended mechanical sunblock, titanium dioxide & zinc oxide, in a uniquely effective combination. This sunblock have been shown to prevent photoaging, a premature aging of the skin and they do not pose absorption risks common to virtually all chemical sunblock.
"Skin whitening products sometimes can be harsh and drying for the end users, Relumins offers hydrating formulas designed to repair and lighten the skin. Their unique formula is hydrating and soothing but is not greasy and will not clog pores. I recommend Relumins products for multiple skin problems, regardless of the condition customers are always happy with their Relumins products." -Suzzy founder of Flawless Beauty and Skin, a New Jersey based skin care spa & retailer of Relumins products.
Relumins was developed for in response for the demand of high quality effective skincare products without harmful ingredients. The entire Relumins brand is produced in compliance with United States FDA regulations, and in accordance with strict industry and safety guidelines. Relumins uses product descriptions that are clear and informative. When describing the product, the ingredients are each defined with specific benefit and health attribute. Directions, warnings, and possible side effects are all clearly listed.
Relumins is an ethically governed company that uses no animal testing and no hidden ingredients. Products are free of heavy metals and never contain hydroquinone, parabens, PABA or any other dangerous ingredients.
The ever growing Relumins product line targets all skin care needs, including skin whitening, anti-aging, skin brightening, melasma, age spots, & acne control. The new developments and formulas are cutting edge in natural skincare industry. When using Relumins, customers can feel confident in their natural skin care choices and will find success in their beauty products.