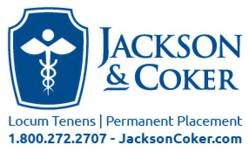 Our hope is that the physician voices represented in this survey are heard and stir constructive dialogue on the state of the medical profession. -- Sandra Garrett, President, Jackson & Coker
Atlanta, GA (PRWEB) June 28, 2013
The nation's physicians are so concerned with the current healthcare environment that 59 percent say they would not recommend a medical career to a young person, according to new national survey from Jackson & Coker's parent company, Jackson Healthcare.
The reasons driving physician dissatisfaction include decreased autonomy and reimbursements, too much time required away from patients due to administrative/regulatory hassles, corporatization of medicine, fear of litigation and longer hours.
As physicians gauge the future of their careers, 36 percent reported a generally negative outlook. Sixteen percent reported a generally favorable outlook, while 48 percent remain cautious.
"Significant external pressures are prompting physicians to rethink what they can do with their lives," said Sandra Garrett, president of Jackson & Coker. "Our hope is that the physician voices represented in this survey are heard and stir constructive dialogue on the state of the medical profession."
Physicians retiring early or considering leaving medicine said they are burned out, don't want to practice in era of healthcare reform and find it difficult to run a practice with high overhead and low reimbursement.
"To attract the coming generation's best and brightest, we need today's physicians championing the medical profession," said Garrett.
To read the survey report, click here.
About Jackson & Coker
For over three decades, Jackson & Coker, a leading locums and permanent placement physician employment firm, has provided doctors for a day, a lifetime, or any of life's changes in between. The firm ensures that both patients' needs and physician career goals are met and by uniting doctors with the hospitals and medical facilities that hire them.
The physician recruitment company has earned a national reputation for placing exceptionally qualified doctors in commercial and government practice physician job opportunities. Recruiters work in two divisions: Permanent placement, which recruits doctors in over 40 medical specialties for permanent physician jobs, and locum tenens, a staffing model that recruits physicians for temporary doctor jobs. With a broad range of physician staffing experience in all specialties including Psychiatry jobs, Hospitalist jobs, Internal Medicine jobs, Surgery jobs, Family Practice jobs, Anesthesia jobs and Radiology jobs, Jackson & Coker specializes in jobs for physicians at any stage of their professional career.
About Jackson Healthcare
Jackson Healthcare is the third largest healthcare staffing company in the U.S. and serves more than five million patients in over 1,300 healthcare facilities. The company also provides technology solutions that enable total hospital efficiency. Jackson has earned national media coverage by providing innovative solutions to healthcare problems, in addition to championing local, national and international charitable work. Atlanta Business Chronicle has recognized the company as one of the Best Places to Work for six consecutive years. Visit http://www.jacksonhealthcare.com/about to learn more.