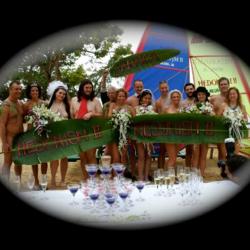 "We look forward to hosting 600 more groups to the Clothing Optional and Nudist Resorts thoughout the Caribbean in the years to come." stated Barnett Bailey COO of Go Classy Tours
Negril, Jamaica (PRWEB) June 27, 2013
Go Classy Tours establishes 600th Caribbean Group Travel Tour.
Go Classy Tours recently announced it has hit a landmark with its 600th travel group. The nationally recognized company is known throughout the Caribbean as a travel provider dedicated to organizing small groups for travel to all-inclusive, nude or clothing optional vacation destinations such as Hedonism II, NResort, Desire Pearl Resort & Spa, Desire Rivera Maya, Hidden Beach, Couples Resorts and many others. Group discounts translate to large savings for small or large groups of 10 or more travelers to exotic destinations in Jamaica, Mexico, Barbados and the Bahamas.
Some of the larger groups that go to Hedonism II include The Butt Crackers, The Jamaican Water Slide Team, The Wet/Wild/Wicked, and the almost famous Hedoween Spooktacular. "It's hard to say which group is more fun." Ms. Hutchinson the owner of Go Classy says, "They come together from all over the world to have fun in the sun (and under the stars) au naturel while enjoying the freedom from clothing restraints that society places on them when at home." One of the most popular resorts is Hedonism II located in Negril, Jamaica which just recently was sold and is under going a 10 million dollar renovation. Another popular resort which all so just sold is the former Breezes Grand Negril and has now been re-branded back to it's original name Grand Lido Negril. The new owners Diamond Resorts is bringing it back to its original glory days which made it a shinning jewel on the Island of Jamaica.
Ms. Hutchinson was quick to point out that groups can be organized for most any occasion, whether it is a wedding group, family reunion, or just a bunch of friends traveling together. "Wedding groups are particularly popular," she said. "Most of our resorts provide free weddings and additional discounts for the wedding couple if they bring friends and family with them. Its a wonderful way to start your life together on the beach in a romantic island setting." She stated that one of her personal preferences for weddings was any of the Couples Resorts located on the Island of Jamaica and now with the opening of Couples Barbados it adds yet another destination where couples can tie the knot.
"We are excited that so many of our group leaders have worked with us year after year. Some of our groups have been traveling with us for 28 years," stated Barnett Bailey COO of Go Class Tours. "The line up of groups traveling in 2014 is growing as the economy turns around and people are looking to travel again." he goes on to say. Go Classy Tours has received nothing but going reports and reviews by the group leaders as well has the clients.
"Go Classy Tours does an excellent job for our group members. They have been our exclusively recommended travel agency for over 13 years and we appreciate all they have done for our members," said Sunset Bill, the Jamaican Water Slide Team founder and webmaster of http://www.JWST.com. "What I most appreciate, besides the low prices GCT negotiates, is the strict confidentiality that they provide. We always expect superior personalized service and for our reservations to be held to the highest privacy standard. Go Classy Tours has always delivered for us," commented one group leader who requested to remain anonymous.
For more information about establishing a group of 10 or more, or to join an existing group and save money on your individual travel call toll free 800 7Classy or http://www.GoClassy.com.
Go Classy Tours is registered in two states: Florida Registration #10015 and California Registration #1015540-40