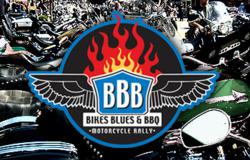 Fayetteville, Arkansas (PRWEB) June 29, 2013
Bikes Blues and BBQ Motorcycle Rally just keeps getting better and better and the lawyers at Russ Brown Motorcycle Attorneys are proud to return as the official legal sponsor.
Arkansas' Bikes Blues and BBQ has it all...
Awesome Concerts:
There will be free live music in the beer gardens every night of the rally, starting on Wednesday with "roots and bluegrass" night and wrapping it up Saturday night with a rock and roll dance party. Entertainment on Thursday and Friday nights will be all blues and will include performances by talented local and regional musicians such as, R.J. Mischo, the world class blues harpist, Chicago style blues from Big James and the Chicago Playboys, Leah and the Mojo Doctors, Trickbag, Tulsa Bluesman Jr. Markham and more.
Ozark Air and Military Museum Air Show:
Don't miss the Ozark Air and Military Museum's "Bikes, Blues and Bombers Air Show". Attendee's will have the opportunity to tour some vintage warplanes and even take a ride in them. The Airshow will be held at the Fayetteville Executive Airport located on Highway 71 leading into town.
Harley Village:
All weekend at the Harley Village, a special area will cater to lady riders. Clothing, ride simulator units and seminars that include riding safety and etiquette, trip planning and bike maintenance are just a few of the fun and informative events scheduled.
BBQ Championship:
The Washington County Fairgrounds are more than the official campsite of the rally. The Fairgrounds will also play host to the Arkansas State BBQ Championship, the lawn mower pulls, the finals of the BBB Karaoke contest and Zombie Apocalypse paintball.
BBB Car Show:
On Saturday, The Northwest Arkansas Mall will host the second annual BBB car show. Whether you like customs or vintage, classics or hot rods, come see some of the coolest cars in the mid-west.
New for this year is the Uptown Lot on North College Avenue featuring a variety of vendors and an all-weather service alley for oil changes, minor maintenance or custom pin-striping. While at the Uptown Lot, stop by the Char-grill folks for some free sliders.
The Ozark mountain region offers a breathtaking backdrop for an unforgettable riding experience. Winding roads that will take motorcycle enthusiasts through quaint Ozark towns, from mountaintops to rushing rivers and placid lakes.
Russ Brown Motorcycle Attorneys and the BAM Team will be at the event introducing more riders to the BAM program which provides free roadside and legal assistance for motorcyclists, 24 hours a day, seven days a week. With close to 2 million members and counting, BAM is the Nation's largest network of bikers helping bikers.
This year's Bikes Blues and BBQ promises to combine all the best of food, entertainment and riding excitement together for an unforgettable rally experience.
Russ Brown Motorcycle Attorneys have been a part of the motorcycle community for over thirty-five years and will continue to show support for great motorcycle rallies like Bikes Blues and BBQ, Thunder in the Rockies, the Sturgis Motorcycle Rally, the Lone Star Rally, Vegas Bike Week and more.