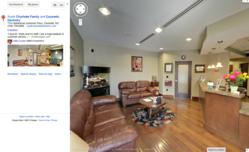 New Google Technology Makes Online Visits to South Charlotte Dentistry Possible
Charlotte, NC (PRWEB) June 28, 2013
On occasion Dr. Wells, of South Charlotte Dentistry, has a patient that is uncomfortable or apprehensive about visiting the dentist. For these clients and for clients shopping dentistry in Charlotte, this technology gives them an opportunity take a look at Dr. Well's dental practice before they visit.
Just by clicking on a link like this one, the customer can walk through the office. They can browse through all of the new technology and zoom in on the equipment. Dr. Wells said, "This technology is great for the nervous patient. They can see first-hand that we have a comfortable, clean environment. We hope it helps them feel at home even before they get to our office."
The technology is also advantageous for clients that are comparing dentists in Charlotte. They can see the equipment and get an idea of what they might be paying for before actually trying the service. For those that want a more personal experience, the staff is available by phone to guide them through the tour.
Wells has this to say about the process, "Marketing data tells us that more and more of our potential clients are shopping for dental services online. We want to be completely transparent to those people that want to investigate our practice. I am so proud of my staff and the excellent facilities that we have created here in Charlotte. I am thrilled that I get to share my practice online."
For some personality types less human interaction is preferred. This great new technology from Google gives those "phone-shy" clients a way to meet their needs.