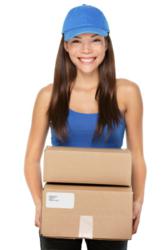 Small air freight forwarders have been absent from prior e-freight discussions and do not seem to be flocking to them now.
Silicon Valley, CA (PRWEB) June 29, 2013
The inevitable proliferation of e-freight offers an opportunity to reshape the air cargo industry. The largest air cargo carriers, the largest air freight forwarders and industry associations have been discussing methods and timing for transforming the industry and recently assigned a goal of achieving 100% electronic air waybill (eAWB) usage by the end of 2015. Arguably, achieving universal eAWB usage will open the door to digitizing as many air cargo functions as practical.
Since that bolt of silk was flown between Dayton and Columbus in 1910, the air cargo industry has innovated. Most innovations have improved physical movement, information exchange or payments. e-Freight promises to improve everything. Ground movements will speed due to more efficient and accurate processing through terminals. Current status information will be instantly and securely available to all appropriate parties. And, everyone gets paid faster electronically.
e-Freight will change the way each member of the air cargo industry performs his or her job. It is like nothing the industry has ever experienced. Digital communication and documents will revolutionize air cargo.
No interested party has been intentionally excluded from e-freight discussions but to date, small air freight forwarders have mostly been absent and there is no evidence they are flocking to the discussion now. Cargo Network Services just hosted their first eAWB Gateway Champion meeting in Houston and 70 forwarders attended.
Larger forwarders, and those participating in associations such as AFA and WCA, have been well-represented via IATA and the Global Air Cargo Advisory Group.in e-freight planning but thousands of small forwarders have yet to join the conversation. It's probable that e-Freight's value proposition and magnitude have not been sufficiently communicated. For many small forwarders, this may result in their peril.
Those participating in the discussions and preparing for the cutover will all eventually prosper from their efforts. e-Freight promises to lift the industry however, the future is less certain for forwarders who have not prepared.
There is consensus the industry will lose some forwarders as a result of its transition to e-freight. It's likely the number of departing forwarders will depend upon how e-freight is implemented. Minimizing the number of departing forwarders will require a plan and effort.
Expecting 100% retention during the transition is unrealistic but the industry has the opportunity to discuss what retention is realistic and its obligation, if any, for achieving that. If that discussion is to occur, it should happen now.
Your comments are welcome.
CgoXchange is a division of Sirius Business Solutions, Inc. and headquartered in the heart of California's Silicon Valley. CgoXchange has been developed as a catalyst for moving small airfreight forwarders to e-freight. Its first application will be automating the ad hoc pricing process.
CgoXchange intends to provide customizable digital control panels to small forwarders, shippers and trucking companies. From digital control panels subscribers can launch all air cargo related applications, even those from other developers. Applications will have mobile versions, where appropriate.
CgoXchange offers an alternative to airline mandates as the method for transforming the air cargo industry to e-freight.
CgoXchange is lead by Craig Ruess who began his air cargo carrier working weight and balance on freighters at JFK in 1977. Craig has held cargo management positions with Northwest Airlines, Air California, Frontier Airlines and Cathay Pacific Airways.
Sirius Business Solutions, Inc, is a digital marketing agency assisting businesses that promote themselves via websites, email, social media, banner adds, search engine marketing and press releases. Sirius Business was incorporated in 2003.
CgoXchange welcomes all communication. Contact can be established via:
Telephone: (650) 321-4229
Website: http://www.CgoXchange.com