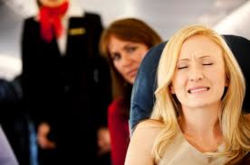 Charlotte, NC (PRWEB) June 30, 2013
Catherine* had an incredible fear of flying. Her intense phobia prevented her from enjoying her family's annual summer vacation trips and was beginning to have an impact on her business travels.
Deciding not to let her phobia get the best of her, Catherine sought help from Verena Martin, CCHT, founder and consulting hypnotist with Charlotte-based SouthPark Hypnosis. In just four sessions, Catherine had resolved her phobia.
Anxiety is generated in the mind. "What once started as negative self-talk, may have spun out of control and may be a paralyzing phobia today," comments Martin. "When negative self-talk is continuously repeated, it eventually becomes a belief. That belief will cause you more stress, followed by more fear, then more worries and ultimately anxiety and later a phobia, which again feeds your negative self-talk and completes this vicious cycle."
Martin offers these tips overcoming phobias.

Knowing that the phobia and anxiety is self-generated. Instead of feeding the thought by focusing on it, try a distraction (read a book, talk to the seat neighbor on the plane, listen to music or a hypnosis recording, or meditate).
Practice ratio breathing – for example, inhale for the count of three, hold for three and exhale on six; or inhale to the count of four, hold for four and exhale on eight. Choose the ratio that best fits one's breathing.
Practice visualizations before the trip. The night before a trip commit to change one's mindset, rather than expecting the worst. Visualize the flight experience going great and that the situation was calm and cool.
"Hypnosis is a great tool to overcome lasting and long-term phobias," Martin adds. "As few as three sessions could completely change how you handle your future flights. Make sure you start the process at least a few weeks prior to your trip to allow enough time for the sessions and reinforcement with hypnosis recordings."
For anyone experiencing flying or other vacation related phobias, SouthPark Hypnosis is offering a special package for anyone dealing with anxiety and phobias. Buy four sessions for fear, anxiety or phobia release for $499, a $100 savings. Offer valid through July 5, 2013. Sessions must be completed by Sept. 6, 2013.
About SouthPark Hypnosis
SouthPark Hypnosis Center LLC is conveniently located in the greater South Park area in Charlotte, N.C. Verena Martin, consulting hypnotist and SouthPark Hypnosis' founder, provides hypnosis services to adults and children for a variety of issues. Areas of specialties include: anxiety and stress management, fears and phobias, and hypnosis for children. SouthPark Hypnosis does not offer medical nor psychological services, but strictly hypnosis and education for self-improvement and personal development.
Sign up for Martin's blog at http://www.SouthParkHypnosis.com, and stay connected with SouthPark Hypnosis via Pinterest, http://pinterest.com/sphypnosis; Twitter, @SPHypnosis; Facebook, http://www.facebook.com/southparkhypnosis; and LinkedIn, http://www.linkedin.com/in/southparkhypnosis.
*Name changed to consider client's privacy