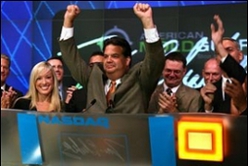 The dashboard has made driving quality traffic to our site a breeze. Thanks/Steve Kingdon
San Clemente, CA (PRWEB) June 27, 2013
"Current digital marketing agencies lack of channel integration limits their success," according to Tom Blakeley, President of Blackwood Productions.
The marketing engine that co-founders Robert Bibb and Tom Blakeley created spins on a hub of web site integration. Six wheels around that hub help turn this engine, including SEO, paid search, display advertising, e-mail marketing, inbound marketing, and social media. "It's not magic," says Tom Blakeley. "We've created a pricing structure that allows us to leave other digital marketing agencies years behind. Our automated marketing engine helps our customers funnel their dollars to the channel where they'll make the biggest impact."
The innovative system includes a weekly PRWeb News Press Release, a weekly social media blog to channels like Facebook, Twitter and LinkedIn, and WebWorks Access. WebWorks includes an optimization engine for PPC campaigns, organic landing pages and a SEO component. It also includes display advertising through major display advertisers like Facebook, Google, Yahoo, and Bing!, as well as a total Google Suite Integration.
Rather than requiring manual configuration of internal and external links and time-consuming content generation, the platform automates the entire process. Blackwood Productions current client roster includes more than 38,000 client sites and serves up over 1.2 million content pages daily.
The company divides their marketing solutions into four quadrants including Easy SEO packages, Mobile Site and Apps, and Social Media Marketing.
Webinars for all kinds of global digital marketing agencies include predictions about the future of search, software for digital marketing, and the resources and services they offer. However, Blackwood Productions feels they've aligned their resources for all the reasons marketers hire a digital agency in the first place.
"We offer a real-time results page on our home page that displays daily SEO ranking, tasks completed, testimonials, client network size and more," says CEO Robert Bibb. "Prospective customers can check and see how well our systems actually work. We show daily gains on our system wide rankings, total overall gains for all of our links and clients, as well as the most competitive ranked keywords."
Blackwood Productions was founded more than ten years ago, and has grown on the idea that a constantly-improving and highly-researched platform that focuses on the three critical elements of search engine marketing and search engine optimization offers clients a superior product to the traditional model used by digital marketing agencies today.
Most marketing agencies offer a menu of services that set out to accomplish different goals through an overlapping series of expertise, actions, and strategies. That's where Blackwood Productions differentiates their offering. Their integrated solution ensures a minimal amount of waste, while maximizing the focus of their client's marketing efforts. "That's the power of the digital marketing engine," says President Tom Blakeley. "But whatever we do, we ensure we follow good search engine practices."
Black Hat SEO techniques are frequently used by unscrupulous marketers, but that can and often does lead to both the marketer and the client being penalized and blacklisted. That's the very reason Blackwood Productions makes sure they adhere to the search engine guidelines to the very letter.
Rather than seeking to exploit the holes in a system, their WebWorks internet marketing platform was designed to simplify the need to do repetitive, time-consuming tasks that are often a requirement for proper SEO. The integrated digital marketing engine actually automates SEO page creation, and takes care of the entire link-building process, while always leaving control of who they link to or who is linking to them in the hands of the clients.
The extensive client list of Blackwood Productions allows them to offer their clients the ability to choose from relavent business categories that include hundreds or even thousands of relevant sites included in their network category. They also take the time to review all client links to ensure compliance with all search engine guidelines.
Blackwood Productions noted that competing digital marketing agencies often add price upgrades for additional features that WebWork Access includes as standard. Blackwood Productions offers several packages a client can choose, so they can accommodate multiple levels of marketing spend.
Their system starts with a pre-diagnostic survey. After the survey is completed and the system is set up, their program helps their clients avoid pay-per-click fraud by pricing their different options at a flat rate fee. These programs automate the maintenance and upkeep most business owners complete on a daily basis to maintain their web site; Blackwood Productions clients have more time to work in their actual business, while the WebWorks platform helps generate leads.
Each and every Blackwood Productions package seeks to take the manual labor out of optimizing a web site. They believe they've discovered a formula and a system that will not only deliver results for their clients, but will make their lives easier and their businesses more successful. Robert Bibb believes the future for Blackwood Productions is bright. "Our digital marketing engine is going to change the way digital marketing is done. There's no one else with anything like this."