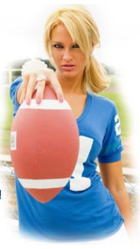 Colorado Springs, Colorado (PRWEB) June 29, 2013
Flag football plays require a whole new level of strategy from those of the padded gridiron. The absence of hard blocks, bone-crushing hits and open field tackles means teams have to focus more on play strategy and execution on both sides of the ball. The actual formulation of plays for the flag football arena requires a different approach than most coaches and players are used to, especially when toward youth.
To simplify the entire process Flag Football Strategies.com has done the groundwork. They've compiled a set of the most effective offensive and defensive flag football plays proven to help teams dominate the competition. This ultimate book of football plays is a lethal combination of run, pass and even trick plays run out of multiple formations
Each playbook is designed specifically for certain number man leagues. Rather than a generic set of plays, coaches can instantly download a playbook specifically suited to their size team. This innovative approach takes all the guesswork out of play design for teams and allows both coaches and players to devote all their effort to execution and results.
For those who want to try their hand at being a true offensive or defensive coordinator and design their own plays, Flag Football Strategies offers an interactive play designer. Coaches start by picking the number of players on the field and can design even the most intricate 4, 5, 6 and even 7 on 7 flag football plays. Outside of those basic set ups the design tool even offers options for 8 and 11 man play setups.
One of the greatest attributes of flag football is how well it's suited for young and developing players. The non-contact aspect of the game allows for them to focus on teamwork building and technique. Often times one of the biggest challenges of youth flag football is designing plays that are easy enough to comprehend, but challenging enough to help build skill. The smaller players and team sizes require a unique set of 5 on 5 flag football plays . To fill this niche there is an entire playbook designed specifically for youth players.
All of the downloadable and creatable plays are set up in an easy to use color coded system to facilitate maximum results. Players need only look at their assigned color on the playbook, and instantly they can view their routes, coverage's and responsibilities. For the ultimate in play calling efficiency teams can make use of the wristband interactive . Plays from the creator tool and downloadable playbook can be printed onto cards and inserted into color coded wristbands.
Players simply look at the marker corresponding to their wristband and the play is ready to run. The huddle becomes a thing of the past and opponents can't react quickly enough.
For more information on this advanced system of complete on field domination coaches and players should pay a visit to http://www.flagfootballstrategies.com or call (888) 233-2250 ext 101.