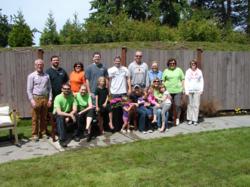 Des Moines, WA (PRWEB) June 29, 2013
The IKEA Distribution Center near Puyallup, WA, donated over 50 employee and family volunteer hours and thousands of dollars in furniture, equipment and plantings to The Arbor, the memory care unit at Wesley Homes Lea Hill in Auburn, WA, on Saturday, June 15.
Led by General Manager Pam Andrews, IKEA provided a complete refresh of The Arbor gardens with new benches, patio furniture, planters with flowers and raised, custom-built planting tables complete with new soil, vegetables and herbs.
"What a gracious gift that will serve each of the residents in their own particular way," said Teresa Askew, LPN for The Arbor. "The residents enjoy going out and seeing the new flowers, sitting on the benches and even showing them off to their visiting family and friends."
The interior of The Arbor was also treated to a refresh of the costume area with major additions to the comfort baby space, including a new bassinette, two new baby dolls and a glider rocker donated by The Old Cannery in Sumner, WA.
These items may seem simple, but they are important when caring for and relating to a person receiving Alzheimer's or dementia care. It is necessary to tap into their long-term memories: parenting children of their own, dressing up, looking at items from their past and doing any of the activities they may have done in their 30s and 40s, such as gardening. This is called joining their journey. - See more at wesleyhomes.org.
Wesley Homes Foundation Executive Director Susan McConnell said, "It's our hope that IKEA's commitment to our community and to eldercare issues will inspire other partners to follow their courageous lead."
Founded in 1944, Wesley Homes is a not-for-profit organization that provides a network of services offering a continuum of care for over 1,800 older adults with two retirement communities in south King County, a private pay home care agency and a Medicare-certified home health agency. It is affiliated with the Pacific Northwest Conference of the United Methodist Church.
WESLEY HOMES
Retirement Communities, Home Health Services & Foundation
815 S. 216th Street
Des Moines, WA 98198
(206) 824-5000