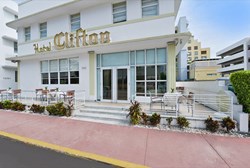 Miami, FL (PRWEB) June 28, 2013
In light of Miami's renewed tourism and real estate growth, Cambean Hospitality has teamed up with Miami's newest hotel brokerage office, Paramount Lodging Advisors, to market the Hotel Clifton in South Beach, Miami. This 1948 Art Deco-style building located in the heart of iconic South Beach on Collins Avenue is Miami Beach's first LEED Gold-­NC certified property, having completed a total renovation of the hotel in 2010.
"Location, location, location!" says Mike Hartman, Paramount Lodging's Miami Beach based lead agent. "This comfortable 34 room boutique provides immediate access to all that is South Beach -­‐ the Beach, Deco Drive, Espanola Way, Lincoln Road. It's an ideal mid-­market lodging option for South Beach visitors who want walking proximity to it all and a pleasant and appealing room to come back to. And it's the hotelier's hotel -­‐ a limited service room-­centric revenue stream with opportunities for upside without the capital expense requirement."
The hotel sale is being marketed to buyers either seeking to add to their South Florida hospitality portfolio or to what seems to be an ever growing group of industry players seeking assets in one of the strongest performing markets in the U.S. Greater Miami and the Beaches showed record increases in January to April 2013 vs. 2012, ranking #1 in Revenue Per Available Room (RevPar) at $180.92, #2 in Average Daily Room rate (ADR) at $213.80, and #2 in Hotel Room Occupancy at 84.6% among the Top 25 Markets in the U.S
Based upon the initial response to the offering -­‐ which formally occurred just last week -­‐ Hartman expects this transaction to happen quickly. "We've seen a tremendous amount of interest -­‐ not only because of the South Beach location, but because the Hotel Clifton-­- a total turn-­key operation-­‐performs so well." Paramount Lodging Advisors is already accepting offers and expects to finalize that process within the next several weeks.
Paramount Lodging Advisors is a global advisory firm committed to the Hospitality Industry, with ten offices across the United States. For more information visit http://www.ParamountLodging.com or call Mike Hartman at 305.586.9742.