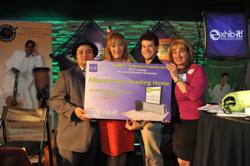 The B2B Expo was made possible by 20 local sponsors throughout Albuquerque.
Albuquerque, NM (PRWEB) June 28, 2013
EXHIB-IT!, Albuquerque's leading trade show marketing experts, hosted a successful business to business expo on June 6, 2013 that was attended by over 520 people. This annual event provides an excellent venue for small business owners and entrepreneurs in the Albuquerque area to network with each other and create successful business relationships. The event also included a fundraiser for UNITE for the Forgotten Kids of NM which resulted in a donation of $8300 from EXHIB-IT!'s silent auction.
The Silent Auction was sponsored by local companies such as ABQ Lasik, Trolley, Albuquerque Florist, AlluraDerm, Artichoke Café, Aveda, Bank of the West, Bella Diamond & Watch, Brilliant Hair Studio and many more. This popular event always receives a great deal of community support. National companies such as Applebee's, the Sheraton and Crowne Plaza hotel chains and Wells Fargo also sponsored this year's EXHIB-IT! networking event.
Donations were made to the silent auction by local businesses. Proceeds from the auction went to support UNITE for the Forgotten Kids of NM (The Aspen Project/LifeQuest). A different non-profit organization is chosen each year to benefit from the proceeds.
EXHIB-IT!'s also hosted a Facebook non-profit contest that was won by ABQ Heading Home and they were rewarded with a display valued at $1800 at the business-to-business expo.
The B2B Expo was made possible by 20 local sponsors throughout Albuquerque. The local sponsors included primary sponsors Data NM, EXHIB-IT! and Garcia's Kitchen and event sponsors 770 KKOB/1050 AM; Albuquerque Hispano Chamber of Commerce, Alphagraphics, Annapurna's, Coffee For Your Business, Compa Industries, Inc, Fairwinds, Garcia's Tents & Events, Inc.; King Mobile Music, Lights… Camera… Action, Nothing Bundt Cakes; Premier Distributing Company, Real Time Solutions, Southern Wine & Spirits of New Mexico, Sunrise Bank with Official Photographer Ray Mares Event Photography. They donated the door prizes that were given out during the event. All of the food for this event was provided by Garcia's Kitchen.
The expo was conducted by Master of Ceremonies, Jeffrey Candelaria, a local Business Development Officer. Entertainment at the expo was run by Hector & Carol Pimentel from Hector Pimentel Music Enterprises.
Now in its sixth year, the EXHIB-IT! Business to Business Expo is a well attended event that receives full support from the local community.
EXHIB-IT! is already planning next year's event for June 5, 2014. The planning committee can be contacted at 1-877-964-1965 or 505-828-0574. EXHIB-IT! is located at 6207 Pan American Freeway NE, Albuquerque, New Mexico 87109. EXHIB-IT! can also be reached through Facebook, Twitter and LinkedIn. Live chat services are available on their website at http://www.exhib-it.com and consumers can fill out their contact us form for more details.