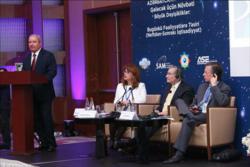 Azerbaijan […] now has to create the next economies after oil – as do many other oil-dependent countries
(PRWEB) June 28, 2013
Government leaders and futurists attending the Baku Future Forum "Next Big Things for the Future of Azerbaijan: Implications for Action Today" discussed the roles of ICT, nanotechnology, synthetic biology, 3-D printing, one-person businesses via the Internet, and other concepts for the post-oil economy.
"Azerbaijan produced half the world's oil around 1900, and still produces about a million barrels of oil today, but it now has to create the next economies after oil – as do many other oil-dependent countries," according to Jerome Glenn, CEO of The Millennium Project that co-organized the Forum with Reyhan Huseynova, President of the Azerbaijan Future Studies Society.
Eric Drexler, the "Father of Nanotechnology" explained how future nanotech processes will create new wealth with less pollution. Amory Lovings of the Rocky Mountain Institute showed how better engineering and new materials can make energy use far more efficient. Dennis Bushnell, Chief Scientist for NASA/Langley warned that "robotic manufacturing and other accelerating technologies will eliminate jobs faster than create them; hence, we will have to invent sources of employment like saltwater agriculture using Halophytes [salt tolerant plants] to produce food on coastal wastelands along with algae for biofuels, and carbon sinks to reduce greenhouse gases; 22 nations are working this now." Paul Werbos, US National Science Foundation program director for Adaptive and Intelligent Systems and other advanced areas recommended investments into "new forms of batteries, solar energy farms with a Stirling engines, and space orbital solar satellites to supply baseload electricity for the world at $0.10 per kilowatt-hour."
The Baku Future Forum was sponsored by the Center for Strategic Studies under the Presidency of Azerbaijan, the Ministry of Communications, Azerbaijan Future Studies Society, and The Millennium Project.
The Millennium Project connects futurists to improve global foresight via its 49 Nodes around the world. It was established in 1996. It produces the annual "State of the Future" reports, "Futures Research Methodology" v.3.0, the Global Futures Intelligence System, and has received funds from UN organizations, multinational corporations, universities, foundations, and the governments of Argentina, Azerbaijan, Dominican Republic, Egypt, Kuwait, Montenegro, South Africa, South Korea, and the United States.