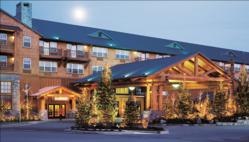 Whether you're traveling across the country or across the street, a big summer vacation can be done on a small budget with these travel tips from The Heathman Lodge.
Vancouver, WA (PRWEB) June 27, 2013 (PRWEB) June 28, 2013
The Heathman Lodge is an independent lodge styled hotel that consistently leads the market in occupancy and guest satisfaction. Summer is a great time to travel and can be done on a budget if you know the inside secrets of how hotels really work. Savanna Kearney, Director of Rooms at The Heathman Lodge said, "Working in the rooms division has taught me what to look for when researching hotels. I know when to go, how to book and how to get the best room when I check in."
Know when you want to go, but be flexible. To start, find the hotel or area where you'd like to stay. Use an online search engine or even a travel site such as Expedia or Travelocity. Enter your preferred dates and click 'search'. Then enter another set of dates with a different pattern. For example, if you first searched for Thursday thru Sunday set the next search for Sunday thru Thursday. What you're looking for are day and rate demand patterns. For the best deals, set your travel dates for the hotel or areas low demand days.
Hotels love travel sites but want you to book them direct. Online travel sites are great for providing a one stop visual search and can often times show you pictures and reviews that help make your decision easier. While you may find the same rate on a travel site as you do on the hotel's site, booking direct is always your best bet. "Every morning we view the arrivals and begin assigning room numbers and upgrades. The first to be upgraded are our loyalty and VIP guests that have booked us direct," Savanna Kearney said. Booking the hotel direct whether online via the hotels website or by phone is the least expensive way for a hotel to take your reservation, so turn on your negotiation skills and give them a call! If you see a rate on a travel site, call the hotel and offer to book the same rate in an upgraded room. The hotel will make more in the end and they will still get your business. The same rings true for deals such as Groupon or Living Social. Calling the hotel direct to book the same deal will either earn you a discount or a better room.
The Heathman Lodge continues to outrank its competitors on service and guest satisfaction. Hospitality goes a long way among loyal customers and it goes both ways. The best way to get the most out of your vacation is to simply be nice. Nothing says free upgrade or complimentary amenity than a pleasant smile, a please and a thank you.
The Heathman Lodge is an independent boutique style lodge hotel located in the heart of Vancouver, Washington. It is owned and managed by CoHo.Services, a Portland Oregon based hospitality management company. Featuring 182 guestrooms, including 21 signature suites, indoor pool and Jacuzzi and onsite award winning restaurant Hudson's Bar & Grill, the Lodge offers travelers and locals a blend of heart-felt service, business amenities and rustic mountain lodge comfort.
To learn more about the Heathman Lodge visit http://www.heathmanlodge.com or http://www.cohoserv.com.