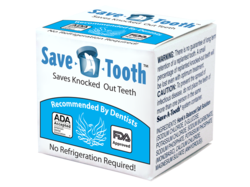 Philadelphia, PA (PRWEB) June 28, 2013
Penguins player Sidney Crosby, was not so lucky during the Penguins-Islanders game in May, losing 3 lower teeth and 4 uppers as well as suffering a broken jaw after a supersonic puck to the mouth. "It's just one of those things that happens…I don't really know what was lost or what is going to be saved," said Crosby after the blow.(1) Unfortunately, Crosby's teeth were not treated in time and his natural teeth were lost.
Knocked out teeth die within 60 minutes if they are not immediately reimplanted by a dentist or stored in a Save-A-Tooth kit, which can preserve them for an extra 24 hours. If proper care is not taken to store and transport knocked out teeth, the only alternative is artificial implants and years of costly and painful dental work and maintenance.
The Save-A-Tooth is not only necessary for professional sports but for the millions of kids sports activities. "There are countless permanent teeth knocked out everyday during baseball, football, soccer and everyday play like bicycle riding", says Dr. Paul Krasner, Professor of Endodontics at Temple University School of Dentistry. "All of the knocked out teeth can be saved but a Save-A-Tooth must be available within 60 minutes of the accident," he warns
"We are living in an age where knocked out teeth need not be lost. Trainers need to be prepared for knocked out teeth and should stock the Save-A-Tooth in their training bags since it is the new standard of care," says Caitlin Krasner, Professional Sports Consultant at Phoenix-Lazerus, Inc.
The Save-A-Tooth can also be used by travelers. Jeanine Barone, the well respected travel expert, now has a plastic first aid kit organizer, "The Doc in a Bag" for sale at http://landofj.wazala.com/widget/?nickname=landofj&profilepage=1&subdomain=1&&page=product_det&id=140393. The organizer is compartmentalized for each of the major ailments that may affect a traveler. The Save-A-Tooth is one of her recommended products to put in the organizer. "It may be difficult to find a well-trained dentist in a foreign country to reimplant a knocked out tooth," says Dr. Henry Rankow, Professor of Dentistry at Temple University, School of Dentistry. "Since the Save-A-Tooth gives a traveler 24 hours to find the dentist, it can make the difference between keeping their own tooth or having an artificial implant," he advises.
Phoenix-Lazerus, Inc. manufactures and distributes the Save-A-Tooth® system, the Complete First Aid kit, the Complete First Aid Pro for Dental offices and the Complete Sports First aid kit. It has been in business since 2001 and is dedicated to producing products completely made in the USA with 100% USA-made parts.