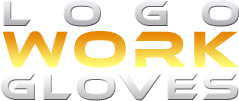 people will notice the logo on the glove.
(PRWEB) June 27, 2013
Having a company logo stamped on your employees work gloves has its advantages. The first, albeit obvious benefit, is its promotional value. A work crew outfitted with promotional gloves, is like having walking advertisement pieces. Whether people see the company logo while walking by the work site, or when the crew goes to lunch, people will notice the label on the glove.
The second advantage of promotional gloves is uniformity. At the auto shop or at the construction site, uniformity is the best way to appear as a professional and quality organization in the customers eyes. It is important to match a company's quality work with a professional appearance.
Additionally, promotional gloves can promote safety. Adding a safety slogan or logo on the work gloves is a great way to remind employees about safety precautions on the job. In regards to safety, Logo Work Gloves also sells high-visibility promotional gloves in bright fluorescent orange and yellow colors.
Logo Work Gloves offers a wide variety of work gloves including mechanic, anti-vibration, welding, winter insulated, kevlar, and more. Furthermore, they provide different types of fabrics such as deer skin, goatskin, leather, among others. For more information visit http://logoworkgloves.com/.