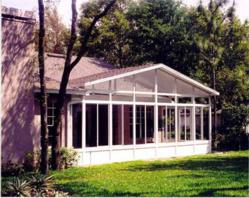 It's important that a design fits the home, the neighborhood, a family's lifestyles and the homeowner's budget. We can do all of that.
MIAMI, FL (PRWEB) June 28, 2013
Reaching out to consumers is the key to making them aware of your product, said Venetian Builders, Inc., President Chris Noe, and Internet marketing and word-of-mouth was doing a good job of it for his firm. But Noe felt the company was missing part of the market, so he decided to do something a bit old fashioned: retail sales.
"Halfway through 2013, it appears we were right," Noe said. "Our retail-sourced residential leads for sunrooms, screen enclosures and patio covers are nearly equal to our consumer-direct leads, and our residential sales have more than doubled over our 2012 pace."
Venetian custom-designs and installs solariums, patio shades and pool domes in West Palm Beach, Fort Lauderdale, Hollywood, Miami, the Keys and all communities near those major Atlantic Coast locations.
Now the company is seeing increases in Doral, where the company was started and still maintains offices.
"Retail leads through four nearby Home Depot stores have sent leads for Doral sunrooms and outdoor rooms soaring, and sales are up, too," Noe said.
Since last fall and into March, Venetian has placed retail sales displays in 41 South Florida Home Depot stores, including four stores surrounding Doral: Hialeah, East Hialeah, Hialeah Gardens and Flagler II in Miami.
As good as Web pages are at informing customers of company services and products, Noe said, they can't do one thing retail displays can. "Our retail displays let people see and even feel our products," Noe explained. "Homeowners visiting one of those four Home Depots with our displays can experience how framing, screen, wall and roof panels, windows, doors and finishes all come together to produce a Doral sunroom, patio enclosure or swimming pool screen."
The displays are custom-fabricated in Venetian's shop from real materials used to build its aluminum sun room additions, patio roofs and screen rooms.
After Doral homeowners request a no-cost home consultation, either through Home Depot or directly through Venetian, they get to see more life-size material and design options right at their curb in the Venetian Builders mobile showroom.
"We think our sales performance shows that customers like seeing real-world product examples," Noe said.
Custom-design capabilities also help, Noe said. "Our policy of custom designing everything we install, no matter the size or budget, makes every project work," Noe said. "It's important that a design fits the home, the neighborhood, a family's lifestyles and the homeowner's budget. We can do all of that."
Venetian is experienced and adept at working with municipal permitting officials and with homeowners associations, reducing time and cutting costs, Noe said.
For more information or to arrange for a free, written estimate, call 866-596-2427.