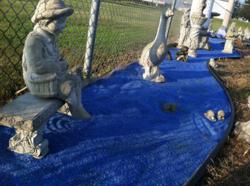 You can never have too many blues in your landscaping!
Kunkletown, PA (PRWEB) June 28, 2013
After 13 years in Kunkletown, PA, the Benefit Corporation has relocated to Gilbert, PA. The family-owned business specializes in beautifying outdoor living spaces with recycled products, some made locally like their recycled plastic post and rail fencing, made to look like real wood, manufactured in Saylorsburg at Waste Not Technologies, LLC from recycled milk jugs. They also offer PA blue glass mulch and many other vibrant colors of tumbled landscaping glass, along with recycled rubber pavers, rubber mulch and landscape timbers and curbs made from waste tires.
"You can never have too many blues in your landscaping," said Rita Lacey, President of Close the Loop Company. "The glass mulch looks like real water without the headaches and maintenance of pumps and mosquitoes breeding in standing water," she said.
They have partnered with Paolini Cast Stone, a third generation family business from Easton, PA at this location, who manufactures molds, concrete statues and soon to offer concrete signs with embedded glass lettering ~ Their motto is: "If you can draw it, we can build it!".
A soft opening is scheduled for Saturday, June 29th from 10am - 1pm with a Grand Opening on Saturday, July 13th. Refreshments will be served both days, plus door prizes. More information is available at http://www.closetheloop.com. Hours are Saturday 10am-1pm or by appointment Mon-Fri anytime by calling 570.629.8414. Visit Close the Loop Company online or "like" them on Facebook.