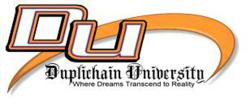 Lake Charles, Louisiana (PRWEB) June 29, 2013
Duplichain University, founded in 2008, had their first graduation on June 2, 2013. Several graduates noted not only the excellent teaching they received but the opportunities the University provides to present and publish their academic work to make them very marketable in the job market.
Recent graduate Dr. Ashraf Esmail acknowledged the mentorship he received at Duplichain University in publishing 2 books while a student at Duplichain University. These works include "African American Racial Identity: An Interdisciplinary Exploration of Racial and Cultural Dimensions of the Black Experience" and "Black Beaches and Bayous: BP Deepwater Horizon Gulf Oil Spill Disaster."
Recent graduates Dr. Veronica Woodward and Dr. Ethel Fisher have a forthcoming book chapter entitled "Bullying in the School Environment". They also acknowledged the impact of the mentorship they received at Duplichain University in assisting them in publishing their first works.
Duplichain University is a global online learning institution offering undergraduate and graduate degrees in education and criminal justice. Duplichain University offers an innovative learning approach in a supportive, nurturing and flexible academic environment. Students enrolled in Duplichain University develop, refine, strengthen, and enhance their skills in a discipline of their choosing, while maturing academically, intellectually, and personally.