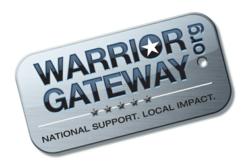 "With over 1 Million veterans returning to civilian life over the next 4 years, organizations like Warrior Gateway, Wounded Wear and Tribute Flight are helping to raise awareness of veterans issues in our communities."
Charlottesville, VA (PRWEB) June 28, 2013
Hampton Roads based mural artist Sam Welty is preparing for a daylong mural project at Charlottesville's Free Speech monument this Saturday, June 29, 2013. The chalk mural, a temporary installment to commemorate the honor and the sacrifice of our nation's military, will serve as a vibrant reminder to the community that the strength of our country relies heavily on the past, present and future bravery of this nation's service members and their families. Welty's 4th of July inspired mural is supported by Tribute Flight, Wounded Wear and Warrior Gateway's Patriots in Paint initiative, a series of large scale murals across the country to generate awareness and recognition for the honor and sacrifice made by our nation's heroes.
This mural will be the second this year by Welty at the Free Speech Monument to honor the military community. The astoundingly detailed and lifelike chalk drawings are reason to stop and admire. Although temporary, Welty and the partner organizations hope that the vivid drawing will be deeply etched into the memory of the community as a powerful use of this free and creative space.
"With over 1 Million veterans returning to civilian life over the next 4 years, organizations like Wounded Wear and Tribute Flight are helping to raise awareness in our communities," said Warrior Gateway CEO, Devin B. Holmes. "By partnering with these organizations and Sam Welty, our Patriots in Paint initiative will use the power of art to honor these men and women as they come home and ensure they have a smooth transition."
As this important holiday celebrating America's independence approaches, Warrior Gateway believes in the importance of remembering and honoring those who have fought and sacrificed for the nation's freedom. Their partnership with Welty is a unique opportunity to celebrate those who currently serve and those who have served in the military through public works of art while also connecting the broader community with the brave men and women who have served this great nation.
About Warrior Gateway™: Founded in 2009, Warrior Gateway connects individuals in the military community with locally and nationally-based support organizations and programs, both non-profit and government. Warrior Gateway harnesses state-of-the art technology and community collaboration to help today's veterans make better decisions about what service providers they can go to for help, and have a public forum to share their experiences about the quality and effectiveness of those services. In 2011, Warrior Gateway's efforts were recognized with the Federal Computer Week Fed-100 award for significant contributions to the Federal IT community and in 2012 with a ComputerWorld Honors Laureate for our innovation in creating an open-source platform for information sharing. A proud partner of the Got Your 6 campaign, Warrior Gateway works to bridge the civilian-military divide with non-profit and government partners. For more information, please visit: http://www.warriorgateway.org
About Patriots in Paint: Patriots in Paint is a partnership between mural artist Sam Welty and Warrior Gateway. This national series of large-scale outdoor murals is designed to illustrate the valor, honor the service and memorialize the sacrifices of those who have served in the U.S. Armed Forces. At the same time, the Patriots in Paint initiative is designed to generate awareness in the local community of the programs and resources readily available to support veterans and military families.
About Wounded Wear: Wounded Wear's mission is to raise the national awareness of the sacrifice of wounded warriors, their families, and the families of fallen service members. In support of this mission Wounded Wear advocates on behalf and facilitates opportunities for those who have sacrificed so much, as well as providing free fashionable clothing kits and modifications to wounded warriors that empower them to rediscover the hero within. For more information, please visit: http://www.woundedwear.org
About Tribute Flight: The Tribute Flight is a 77-day mission that will be flown in a specially modified aircraft upon which will be painted the names of American and Coalition troops killed in Iraq and Afghanistan. The Tribute Eagle will fly to every U.S. state during the 77-day period, landing in hometowns of fallen troops, visiting between five and 10 airports every day. On the final day of the mission the aircraft will fly down the Eastern Seaboard and land at a specially designated airfield, where the families of the lost will gather to remember their fallen loved ones. For more information, please visit: http://www.tributeflight.com