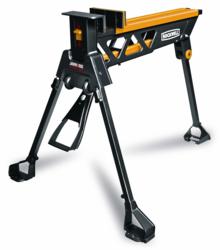 Charlotte, N.C. (PRWEB) June 28, 2013
The Rockwell Sheetmaster holds workloads up to 600 lbs. and accommodates work materials up to 49 in. wide. It has a clamping force of one metric ton, which is 10 times the clamping force of a typical handheld clamp.
"The JawHorse Sheetmaster is the ideal portable workstation," said Jeanne White, senior product manager for Rockwell. "It's an asset to any workshop, plus since it can fold into a compact unit, it can be stored when not in use or transported to the worksite."
The Sheetmaster has a patented foot pedal design that clamps the three-legged workstation's jaws by 1 in. with each stroke of the pedal. This pumping action compresses the jaws until the work piece is secured. The foot pedal is equipped with a stirrup to prevent the user's foot from slipping. The JawHorse Sheetmaster's, 8 in. x 3 in. steel jaws open to 49 in.
Builders, remodelers, do-it-yourselfers, hobbyists and crafters often need an extra set of hands to juggle projects. JawHorse Sheetmaster is a great station for cutting, sanding, scraping, polishing, painting or staining operations. It's a project helper too when it comes to hanging doors, installing crown molding, refurbishing projects and more. Plus, it's a work support station for miter saws and tile saws.
The Sheetmaster outweighs the JawHorse by nearly 10 pounds. In place of a cylinder roller (JawHorse), the Sheetmaster features two integrated inline skate wheels for mobility.
A new rear foot on the SteelMaster has a non-slip grip, plus the base of the foot is wider, and by design, reduces its ability to sink into soft ground. This third leg now has a built-in hand grip, which doubles as a handle for easy transport from one location to another.
The JawHorse Sheetmaster is constructed of heavy-gauge, powder-coated steel throughout, and weighs 52.9 lbs. Its wide-stance tripod design keeps all three non-slip feet firmly on the ground, even when the terrain is uneven.
When open, JawHorse Sheetmaster measures 46 in. L x 35-1/2 in. W x 34-3/4 in. H. When not in use, it folds to a compact 37-1/4 in. L x 14-5/8 in. W x 13-7/8 in. H. It fits conveniently into a vehicle's trunk, truck bed, closet or corner of a workshop or garage.
It takes the place of workbenches, stands, saw horses, vices and clamps. Set up shop in the garage, basement, patio, driveway or at the jobsite. It's also ideal for apartment dwellers and homeowners who don't have a workshop or garage.
The JawHorse Sheetmaster (RK9002, $219.99) is available at rockwelltools.com and other popular websites, including amazon, Lowes, and Home Depot.
# # #