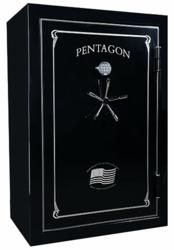 Owning a Gun Safe that the professionals use, that I purchased at a affordable price I absolutely love it! - Robert Messman
Los, Angeles (PRWEB) June 27, 2013
It has become clear over the past several decades that the world is not a completely secure place. The continual threat of terror plagues governments and civilians around the globe as people seek to live their lives with more caution while still maintaining as much normalcy as possible. In response to this uncertainty yet universal desire for security, Sportsman Steel Safes has announced the release of their Blast and Ballistic Vault Door. "This door has been designed to provide protection for items of significance within the vault in the face of fires, explosions, bullets, and more, creating a superior gun safe," said the company owner Kevin Hand.
Considerations of Government Agencies
Although the number of deaths have peaked in 2007 according to American terrorism experts, the number of terrorist attacks per year have quadrupled in the decade since the September 11, 2001 attacks in the United States. As many of these attacks have been concentrated in Iraq, Pakistan, and Afghanistan, government officials must be concerned not only with the potential loss of life, but also with attacks upon embassies, military stations, and similar areas which contain potentially sensitive information. On September 11, 2011, the United States Embassy in Benghazi, Libya was attacked and set on fire by terrorists. Without proper precautions taken by embassy personnel, it would be very easy for confidential information to end up in the wrong hands, making secure gun safes and other vaults vital for security.
"The AQ [al-Qa'ida] core still has the ability to inspire, plot, and launch regional and transnational attacks from its safe haven in Western Pakistan, despite its leadership losses. Along with AQ, the Afghan Taliban, the Haqqani Network, Tehrik-e Taliban Pakistan, and other like-minded groups continue to conduct operations against U.S., Coalition, Afghan, and Pakistani interests from safe havens on both sides of the Afghanistan/Pakistan border. Other South Asian terrorist organizations, including Lashkar e-Tayyiba (LeT), cite U.S. interests as legitimate targets for attacks." (Country Reports on Terrorism: Strategic Assessment, 2013)
Benefits of the Blast and Ballistic Vault Door
This vault door has been designed to protect and secure important items for government agencies, commercial, and residential owners. There are four blast resistors built into the door with an accordion structure that enables it to withstand the force of a blast without compromising the security. "This creates a blast proof gun safe which can be used confidently in volatile areas and locales that may be threatened by terrorism," continued Hand.
The door also comes with a ½" solid armor ballistic steel, creating a ballistic gun safe, which seals the door further from forced entry. The makers even offer a lifetime vault fire warranty for added security. As Hand expressed, "We are extremely proud to offer this secure gun safe to our clients. We are confident in its capacity to withstand all attempts at forced entry and know it will continue the proud Sportsman tradition of not having a vault door break in over 30 years." The five step system door has been entirely made in the U.S.A.
Sportsman Steel Safes
Sportsman Steel Safes has been producing gun safes and other security devices for over thirty years. They strive to make only the highest quality products, which is why they have never had a vault door Broken into. Their products are proudly used throughout US government agencies, including Homeland Security, the FBI, and the CIA.