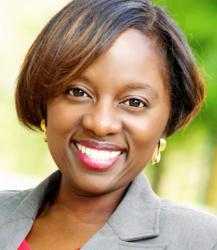 I am so honored to be speaking again at SUNY Fredonia. I spoke there last year and the students were awesome and Student Affairs Faculty was very welcoming.
Atlanta, GA (PRWEB) June 28, 2013
Award winning speaker and author Angela Ray of Angela Ray International will be the fall convocation keynote speaker at SUNY-Fredonia. The event will be held on Sunday, August 25, 2013 beginning at 3:00 P.M. SUNY-Fredonia is a part of the State University of New York System which comprises 64 unique learning environments for every type of student.
"I am so honored to be speaking again at SUNY Fredonia," Ray said. I spoke there last year and the students were awesome and Student Affairs Faculty were very welcoming." While Ray will provide the keynote address, various on campus groups will also participate in the program.
A highly requested high school and college speaker, the beginning of the fall semester is generally a busy time of year for Ray as colleges work to prepare students for the upcoming school year. Most recently, Ray presented the SLC Megastar Leadership Conference at Martin Luther King Jr. High School in Lithonia, Georgia in May. In March, she released her book, Rays of Motivation.
Ray is currently finalizing details for the travel and wants to speak at other upstate New York and Toronto colleges while she is in the area. "I enjoy serving as many students as possible when I am in a city, so if there are student activities coordinators or orientation counselors in the vicinity of SUNY Fredonia, I welcome the opportunity to speak at those colleges." For more information or to book Ray, please visit http://www.angelaray.com or call toll free at 855-387-4463.
About Angela Ray International
Angela Ray is an award winning speaking and author who has spoken to thousands of audiences around the country. She created Angela Ray International LLC to empower individuals and organizations. She has worked with a variety of clients including North Carolina Central University, St. Joseph's Historic Foundation, Voorhees College, Specialized Contract Services, and Southside Virginia Community College to name a few. A recognized authority on communication, Ray is committed to transforming lives and developing megastar leaders.
About SUNY Fredonia
SUNY Fredonia is part of the state university of New York system, and is based in Fredonia, New York. A liberal arts institution, SUNY Fredonia takes pride in helping students become responsible, global citizens. The university enriches the world through scholarship, artistic expression, community engagement, and entrepreneurship. The fall convocation is an annual event that helps first year students get started with the right tools as they begin college.