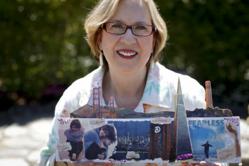 But in the practice of addressing our art materials for the sake of becoming more clear—whether that means a deeper understanding of a question or a calling, or simply a time to un-wad the crinkles of a too-busy mind—we can find illumination.
(PRWEB) June 28, 2013
"In this wired, wild world, it is harder than ever to truly calm oneself—everywhere we go, we are assaulted by noise, stimulation, the never-ending crawl at the bottom of our television screens," states Maggie Oman Shannon in her recently released book from Viva Editions, Crafting Calm: Projects and Practices for Creativity and Contemplation. In order to pull away from the world of over-stimulation and over-stressing, Oman Shannon provides 40 crafts for calm, clarity, comfort, contemplation, creation, community, and connections.
Mother Earth Living featured five of those crafts in a recent article, "Easy Inspirational Crafts to Reduce Stress Levels." These include Maggie Oman Shannon's instructions for how readers can create their own tabletop meditation fountains, visual journals, tray Zen sand gardens, rock cairns, and message bottles.
Oman Shannon also appeared in The Huffington Post, where she asked, "What's In Your Spiritual Toolbox?" and included instructions for creating a spiritual toolbox.
Crafting Calm
Projects and Practices for Creativity and Contemplation
By Maggie Oman Shannon
Craft Your Way to Inner Peace
Maggie Oman Shannon's Crafting Calm is a DIY guide to peace of mind, offering an abundance of ways to achieve serenity and satisfaction by living the handmade life. Author Oman Shannon, the spiritual director of a Unity Church, explores crafts and creativity as a lifelong practice with enormous physical, emotional and spiritual benefits. And by knitting love and hope into every stitch, handicrafts help form new friendships and community. From making a desktop shrine or mini-Zen garden, to stringing intention beads and painting personal prayer flags, Crafting Calm is an essential tool for making mindfulness.