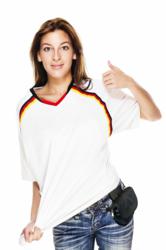 The New Hands Free
Henderson, NV (PRWEB) June 27, 2013
NFL Fans have a problem that Hipzbag® solves. Starting this season, fans are only able to bring in bags or purses the size of their hand. The NFL are the first professional sports league to do this, however others may follow. At the Boston Marathon bombings, the explosives were hidden in backpacks and limiting the types of bags entering stadiums will minimize situations like this.
"The Hipzbag® was designed to have your cellphone and essentials close while staying fashionable. The bags 5.5"x5.5" or smaller fit the NFL bag rules and it should get another point for allowing the fans to be Hands Free at the game," said owner Kathy Crifasi. "Your shoulder and back might thank you for ditching the purse and clipping on a Hipzbag. You will find many other reasons and places to wear the Hipzbag."
Designed to ride on your hip, by attaching to your belt loops or a thin waist strap, Hipzbag® features a zippered compartment in the front, perfect for carrying money, keys, iPods, cell phone, etc. There is an open pocket that rests against your hip that your phone sits in snug. The target market is very broad: cellphone lovers, travelers, events, golfers, dog walkers, hikers, bikers, casino goers, college students, people on the go or anyone who wants their hands free while keeping their cellphone and essentials attached.
Hipzbag® comes in different sizes, shapes and colors. There are bags for men and women. It can be worn on your belt loops with patent pending hooks or with an adjustable matching waist strap.
About Hipzbag®
Creator, Kathy Crifasi, computer nerd by trade, created the Hipzbag® purely out of necessity. Walking around holding her cellphone, wanting it to be attached to her body—Kathy could not find a solution, so she designed one! Hipzbag® is a product of Hip Shift Corp, a company bringing to market functional fashion products. Shop online at http://www.MyHipzbag.com.