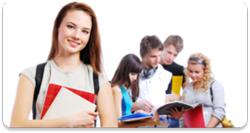 IOS7 inspired design for SearchMyDegree.com
Iselin, NJ (PRWEB) June 28, 2013
Search My Degree has been a frontrunner when it comes to collating educational resources under one virtual roof. With students being prone to pick the attractive over the traditional, Search My Degree has gone in for a site look revamp. Inspired from the sleek design that Apple has unveiled with its iOS7, the educational portal has now gone from good looking to wow!
Serachmydegree.com has taken a step towards a longer leap that holds the future of design from in-your-face to a toned down look. Search My Degree is a comprehensive guide for students of all ages and groups. It proffers students information on top schools across disciplines such as Chef Education, Courses on Accounting and majorly top colleges of animation and many more. It also brings the latest updates in the educational spectrum via regularly updated articles.
With its new design, the site is now easy on the yes while offering quick and hassle free browsing. The font appears well-in-place and the no-hassle feel is a result of the Search My Degree team's intensive research about what students associate with a good-to-surf website.
Serachmydegree.com appears lively, in colors that are universally soothing. The green and white makes for an impressive landing page which incites students to browse comfortably without a sting in their eyes.
The revamped site is neatly orientated and spaced cleanly to accommodate articles, videos and a huge school database. This scores as a brownie point for students looking to browse through varied resources quickly. The pages with new design load at lightening fast speed and there actually remains no issue with their opening up.
The well-organized landing page offers resources to every student depending on his or her interest. With links to the updated post and educational blogs right beside the search boxes, students will find browsing through the website a cakewalk.
The CEO of SearchmyDegree.com says, "It a small step to offer more browsing comfort to the present generation keen on getting a degree of their choice. It had been launched with an aim to help students search and compare information on over 200 schools and this revamp will now work to encourage students to surf through the information comfortably."
Just like our tag says "Degree Search Made Simple", our iOS7 inspired design bespeaks comfort; coolness and vitality all combined under one portal. The clutter-free interface works seamlessly without trouble on all operating systems. The cross-browser compatible feature adds a feather to the all-new look of Search My Degree.
About SearchMyDegree.com
http://www.SearchMyDegree.com is your eventual online helper to offer you some great information related to degrees, colleges, studies and scholarship. The site offers you reliable and direct information about the different sources of education and taking the right decision for potential online school courses or degrees.