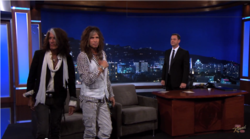 Steven Tyler walks this way in Robin's Jean
Los Angeles , CA (PRWEB) June 29, 2013
Steven Tyler walks across the stage in Robin's Jean grey cargo pants during his appearance on talk show "Jimmy Kimmel Live!", on June 20, 2013. Tyler, a frequent shopper at Robin's Jean Beverly Hills Store located at 313 N. Beverly Dr. Beverly Hills, CA., was accompanied on the show by his Aerosmith band mate Joe Perry as they discussed being inducted into the Hollywood Bowl Hall of Fame on June 22nd. The annual Hall of Fame concert, honors music legends and is a benefit for the LA Phil and its education programs.
Founded in 2000, the Hollywood Bowl Hall of Fame celebrates those consummate creators and performers, who, through their talent and effort, have established themselves as true superstars whose contributions to the arts have made them part of the fabric of American culture. Other inductees recognized this year were Patti Austen and John Legend, and presenters were Stevie Wonder and Darren Criss. The ceremony was hosted by Hollywood actress, Angela Bassett.
Robin's Jean features a unique collection of jeans, jackets, tops, hats and belts for men and women. Represented by the gold-winged logo, Robin's Jean captures Robin's childhood dream of freedom and flight. Robin arrived in Los Angeles in 1996. His skills combined with talent, caught the eye of the best denim companies in LA. In 2005, he decided to incorporate his passion for designing clothes, riding motorcycles and vintage cars with his fascination of the American spirit to create his own line, Robin's Jean. Today, Robin designs his collection in the United States, and the unique styles truly embody his love for freedom of the open road and big sky.