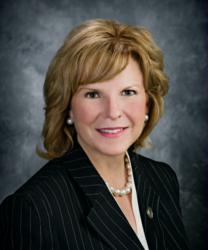 I am thrilled to accept the nomination of my banking colleagues, and I look forward to working with the newly elected PBA Board of Directors, as well as our CEO, J. Duncan Campbell III, and the entire PBA team. - Patricia A. Husic
Harrisburg, Pennsylvania (PRWEB) June 28, 2013
The Pennsylvania Bankers Association (PBA) announced that Patricia A. Husic, President and CEO of Centric Bank, headquartered in Harrisburg, will assume the Chair of the Board position for the organization on July 1, 2013. A member-driven association representing the banking industry at the state and federal levels, PBA champions tens of thousands of bankers across the Commonwealth.
"Patti is only the third female in the Association's 118-year history and the first woman to serve as Chair since 1998," said J. Duncan Campbell III, president of PBA. "She has already made her mark with valuable leadership as Chair of the Audit, Budget, and Finance Committee."
With a focus on responsible growth, telling a powerful pro-banking story, and spearheading PBA's new women in banking initiative, Patti comes to leadership with a compelling vision and a history of successful ideas and industry implementation.
"I am thrilled to accept the nomination of my banking colleagues, and I look forward to working with the newly elected PBA Board of Directors, as well as our CEO, J. Duncan Campbell III, and the entire PBA team," says Husic.
"Bankers are vital to our communities and cities, and PBA is filled with remarkable individuals who make a difference every day for our customers, our neighbors, and our economy. I look forward to telling our PBA story in every corner of our Commonwealth and sharing a contagious optimism and confidence in our nation's financial systems and our economic recovery."
Now serving her second term on the 22-member board of directors, Patti has a robust speaking and touring schedule throughout the state as she leads one of the strongest and most respected associations in the nation. PBA has been representing the banking industry across the Keystone State since 1895 and conducts some of the most advanced seminars, academies, and schools available to bankers anywhere in the United States.
"Patti's unique combination of drive, leadership, and loyalty to both Centric Bank's employees and its customers creates energy and inspires the growth and performance that Centric is known for," says Jack Salvetti, CPA, President of S.R. Snodgrass, A.C. "Named an American Banker 2011 '25 Women to Watch in Banking,' Patti strengthens the PBA platform and leads by example, inspiring men and women throughout the industry."
"Patti exhibits great leadership and commitment to PBA, and she recently spearheaded the Association's effort to develop a Women in Banking Peer Group—an initiative that will launch this fall," says Campbell. "Patti highlights the interests shared by women bankers: the mentoring of emerging leaders; the networking that can only help to build stronger relationships, both personal and professional; and the professional development issues associated with being a woman in the banking industry. Thanks to her leadership, the PBA supports opportunities for all women in banking."
A two-time Best Places to Work and Top 50 Fastest-Growing Companies for two consecutive years, Centric Bank is headquartered in south central Pennsylvania with assets of $309 million. A locally owned, locally loaned community bank, Centric provides highly competitive and pro-growth core financial services to businesses, professionals, individuals, and families.
Centric Bank continues to invest in meeting the needs of the community through its sponsorships and is committed to delivering gold standard financial products with a premium service that revolves around its customers. Founded in February 2007, Pennsylvania-based Centric Bank has financial centers located in Harrisburg, Hershey, Mechanicsburg, and Camp Hill.
To learn more about Centric Bank, please call 717.657.7727.