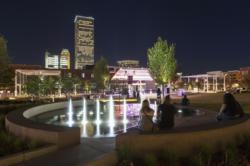 Tulsa's new Guthrie Green demonstrates the power of city parks to catalyze revitalization, generate innovative sources of energy, and maximize the benefits of effective private-public partnerships." ~ Elizabeth Shreeve, principal of SWA Group
Toronto, Ontario and Tulsa, Oklahoma (PRWEB) June 28, 2013
Guthrie Green is a miracle of transformation and collaboration. Residing on a 2.7 acre square block in downtown Tulsa, Oklahoma, the site, once used for a variety of commercial and industrial purposes, is now a thriving performing arts venue, park and a
showcase of "green" technology.
Overseen by sponsors the "George Kaiser Family Foundation (GKFF), a Tulsa-based community organization, the 19-block Brady Arts District has been revitalized with Guthrie Green as its centerpiece. Guthrie Green, named after local singer-songwriter-performer Woody Guthrie, is now overflowing with gardens, Crystal interactive fountains, an outdoor stage with vine-covered "green rooms", a multipurpose lawn for performances and festivals, and an 11,200-square foot pavilion.
GKFF consulted with local performing arts groups then worked with architects and theatre designers to design a park that would meet the needs of local and touring performing artists. The stage and the technical infrastructure support the needs of performers as well as park visitors. Performing events at Guthrie Green are presented through a partnership with Tulsa Performing Arts Center Trust (TPACT) who will bring a series of free music, theater and film events to the Tulsa community.
The park itself, designed by the Sausalito, CA office of SWA Group, showcases the ability of city parks to revitalize neglected urban spaces and serve as a template for sustainable landscape design.
The transformation of this former industrial site into Guthrie Green was itself a "green" effort requiring negotiating the environmental impact of historic uses. During construction, the remnants of a gas station and 14 rusting fuel tanks were removed and the surrounding dirt was reclaimed setting the stage for the greenest component of Guthrie Green – a geothermal sink with ground-source heat pump system buried under the park:

Below the grass, the well field consists of a network of 120 wells drilled to 500 ft depth as part of the geo-exchange system.
The system generates 600 tons (7.2 million BTU/hour) of heating/cooling distributed via underground pipes that circulate water at a temperature of 66 degrees.
This water feeds ground source heat pumps in neighboring buildings reducing their heating and cooling costs
All lighting on the site is LED, reducing the overall site demand for electricity.
Water runoff on the site is diverted to bio-swales, which help irrigate the landscape and clean the water before it enters the storm sewer.
Photovoltaic panels on the pavilion roof supply power for the heat pump system.
The project's sustainable approach garnered public funding including a $2.5 Million ARRA Energy Demand Reduction Grant, a $125,000 Brownfield Development Grant from the Oklahoma Department of Environmental Quality, and additional local funding.
Scattered throughout the park are a number of water features including four black granite cubes that release water from the earth as jets, mist, and fog as a reminder of the geo-exchange system beneath. A circular fountain designed by CMS Collaborative contains seat walls and lighting along the east edge of the park and also gives the public an interactive fountain to enjoy. Working with KusserGraniteworks as water feature installer, Crystal was proud to provide a number of water feature and LED lighting products in this impressive park.
"This… magnificent gathering space in the center of a once-forgotten part of downtown Tulsa…is now thriving with arts, music, great food and celebration on almost every day of the week," said Ken Levit, Executive Director of the George Kaiser Family Foundation. "The park—known as Guthrie Green—almost instantly became 'the place to be' on any given sunny day in our city."
About Guthrie Green:
Guthrie Green is an urban garden and performance space in The Brady Arts District in downtown Tulsa, Oklahoma. The park features a stage, The Dock pavilion, tree-lined paths, shade structures, water features and a large lawn.
About George Kaiser Family Foundation (GKFF):
George Kaiser Family Foundation (GKFF) is a charitable organization based in Tulsa, Oklahoma, dedicated to breaking the cycle of poverty through investments in early childhood education, community health, social services and civic enhancement.
About Crystal:
Crystal is a globally recognized international water feature specialist since 1967. With offices and partners throughout the U.S., Canada, Europe, the Middle East and Asia-Pacific regions. Crystal's premium water & light products and services are used throughout the world to transform water feature visions into reality.