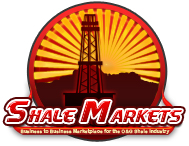 Online Supply Chain Sourcing for the Shale Oil & Natural Gas Industry
Pittsburgh, PA (PRWEB) June 30, 2013
Presenting the first in a series of Natural Gas Supply Chain Seminars, taking place at the Sheraton Four Points – Pittsburgh North in Cranberry Township, on Thursday, August 15th 7 a.m. – 1 p.m.
The purpose of this seminar is to show businesses large and small across the US how to break into the industry and to prosper once in. The natural gas & oil supply chain is extensive in the Pennsylvania-Ohio-West Virginia region; with the Utica & Marcellus shale laying below these states, it is a prime location and time to get products and services into this industry.
This seminar will cover: a brief history and terminology used in the industry; a review of the supply chain to examine where each company may fit; explanation of safety/ environmental certifications and audits; show how each company can start doing business right away; discuss how social media can improve a company's web presence; network with professionals in the industry as well as other businesses, and more.
"In the wake of President Obama's speech about climate change it is evident that natural gas development is here to stay. At Shale Markets we provide businesses with the opportunity to get their products in the natural gas & oil industry supply chain." – RJ Pader CEO of Shale Markets.
Hydraulic fracturing or Fracking has become a common word in this region, what many businesses don't understand is that there are other opportunities to get into the industry aside from the completions side. There's Upstream, Midstream, Downstream and Offstream supply chains that are not only open to new businesses, but need new businesses.
Any business in this tri-state area interested in getting into this industry should attend this event. Tickets can be purchased here shalemarkets.com/supply-chain-seminars/ and cost $95.00 for the first ticket and $75.00 for each additional ticket in your group.
To see more information or to register, Click Here.