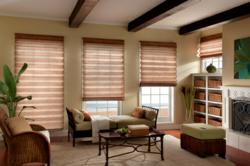 Shagri-La Shades from Zebrablinds is the latest patented, innovative design for shades.
Mahwah, NJ (PRWEB) June 28, 2013
Shangri-La Shades from Zebrablinds is the latest patented, innovative design for shades. Zebrablinds, an online window treatment retailer, now provides the best deals for these new shades. Zebrablinds works to provide customers with cheap blinds, shades, shutters, and drapes of the best quality. The company strives to offer customers the most innovative and affordable window treatment available in the market. Shangri-La Shades are one such innovation that Zebrablinds has made affordable for all.
Traditional shades are now available in a variety of fabrics, with multiple features such as cordless or motorization. They can also be made to fit any type of window. The everyday traditional shades have become the sensible and elegant alternative to drapes. However, these traditional shades are a very poor choice for light filtration. The only options for light filtration may be to open the shade part way, but this still lets the sharp sunlight to stream in without any softening barriers. Shangri-La shades have been designed specifically to fix this problem. These new shades are made with three layers of fabric; two outside layers made from sheer fabric and the third layer in the middle that is able to move in a fashion similar to blinds. The layer in the middle is very much like the slats of blinds; it is fitted in like slats and each piece moves to close or open together. By adjusting this layer customers can now have better light filtration in a shade.
In addition to light filtration, Shangri-La Shades are also a great choice for insulation purposes. Due to the three layers of fabric in the shade and how closely the shade is fitted to the window makes these new shades perfect for insulation. They help keep the air conditioning or heat within the house. With these new shades homes can not only have beautiful window treatments, but can also be more Eco-efficient with energy.
Zebrablinds offers customers many deals and discounts for a variety of window treatments. Now customers can get 10% discounts on their new shades for every Facebook Like. In addition to the many choices of window treatments, customers can now also choose from the latest innovations like Shangri-La Shades. Zebrablinds also offers the option to get free samples for most products. Clients are encouraged to get the samples as it also guarantees them with the color match warranty. Get the best and newest model of shades for the best prices, and free shipping from Zebrablinds.