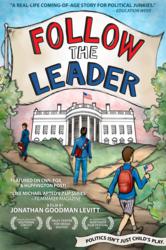 As shocking as 'Jesus Camp,' as revealing as 'American Teen,' and as funny as 'Spellbound,' 'Follow the Leader,' tells the true story of what 'change' means for three young leaders who feel destined to lead the world.
(PRWEB) June 28, 2013
For its Season One finale, America ReFramed hosts the U.S television premiere of Jonathan Goodman Levitt's "Follow the Leader." Well-timed to Independence Day, "Follow the Leader" is "a real-life coming-of-age story for political junkies" (Education Week) that's "like Michael Apted's 7 Up series" (Filmmaker Magazine). With a unique multi-platform release positioned between Independence Day and this year's September 11th anniversary – when the film will be re-broadcast on WORLD – the lives of the three teens profiled in "Follow the Leader" are aimed at provoking a national conversation about who tomorrow's leaders will be, the impact of 9/11 on them, and the political views of the millennial generation.
The film charts the lives of sixteen-year-old, high school class presidents Ben (The Loyalist from Virginia), D.J. (The Believer from Massachusetts) and Nick (The Idealist from Pennsylvania), all initially conservatives who plan to continue leading their peers as President someday. Growing up in the post-9/11 world over three life-changing years, they split into Republican, Democratic and Independent camps as each reconsiders his lofty ambitions. Along the way, they encounter – and receive some personal mentorship from at times – adult politicians across the political spectrum including President Barack Obama; the late Senator Ted Kennedy (his final film appearance); former U.S. Secretary of State Hillary Clinton; former President Bill Clinton; U.S. Senator from Arizona John McCain; Ken Cuccinelli, the Attorney General of Virginia, and Republican Candidate in this year's hotly contested race for Governor of Virginia; Governor Deval Patrick of Massachusetts; Michael Dukakis, the longest-serving Governor in Massachusetts history; Niki Tsongas, current Congresswoman (MA-5) and the first woman elected to Congress from Massachusetts in 25 years; and Michael Bloomberg, New York City's Mayor.
As shocking as "Jesus Camp," as revealing as "American Teen," and as funny as "Spellbound," "Follow the Leader," tells the true story of what "change" means for three young leaders who feel destined to lead the world. The only documentary to premiere at both the Republican and Democratic Conventions last year, the film has national outreach partners of all political stripes and has had previews at such diametrically opposed venues like Grover Norquist's Americans for Tax Reform and The Roosevelt Institute in New York. According to Rich Tafel, founder of Log Cabin Republicans and President of non-partisan group Public Squared, the film provides a rarely seen perspective that is "completely authentic...and without political bias like no film I've ever seen." Since Season One premiered last September, America ReFramed on public television's WORLD Channel has presented films that like, "Follow the Leader", provide viewers with glimpses of our changing American society and its diversity.
In addition to its WORLD Channel U.S. TV premiere broadcast, "Follow the Leader" has a unique distribution strategy that includes a national digital platform rollout starting with iTunes, and continuing to several more platforms on July 9. The film will also be brought to cinemas across the country "on-demand" through Tugg.com, a crowdsourcing platform that allows filmgoers to bring films to cinemas in their areas.
About the Series: America ReFramed
The 52-week series, America ReFramed, tells the stories of a transforming American culture in all its broad diversity. With independent films, 60 to 90 minutes in length as well as in-depth interviews and commentary from host Natasha Del Toro, the series takes an unfiltered look at challenging national issues and fascinating lives with personal storytelling.
America ReFramed showcases films that offer viewers a "snapshot" of America — the guts, the glory, the grit of a new and changing reality. From contemporary life on Native American reservations to stories of recovery on the Gulf, from hardships and renewal in small towns to stories of tough city streets across the country, these independent and personal films document the times in which we live.
Host Natasha Del Toro is an independent journalist and documentary producer who brings both an energetic voice and a practiced eye to the series. From interviews with filmmakers and others, Del Toro elicits the issues, the challenges, and the back-story of each featured film. The series is produced by American Documentary, Inc., and broadcast by public television's WORLD Channel.
Presenters
American Documentary, Inc.
American Documentary, Inc. (AmDoc) is a multimedia company dedicated to creating, identifying and presenting contemporary stories that express opinions and perspectives rarely featured in mainstream media outlets. AmDoc is a catalyst for public culture, developing collaborative strategic engagement activities around socially relevant content on television, online and in community settings. American Documentary is best known for its premiere series POV Point of View Documentaries on PBS for over 25 years. America ReFramed is produced by Executive Producers Simon Kilmurry and Cynthia Lopez.
About WORLD
WORLD℠ is a 24/7, full service multicast channel featuring public television's signature nonfiction documentary, science and news programming complemented by original content from emerging producers. Launched in August 2007, WORLD is produced and distributed by WGBH/Boston, American Public Television(APT) and WNET/New York in association with Public Broadcasting Service (PBS) and the National Educational Telecommunications Association (NETA). WORLD is distributed by APT and is broadcast with coverage reaching nearly two-thirds of the United States.
About WGBH
WGBH Boston is America's preeminent public broadcaster and the largest producer of PBS content for TV and the Web, including Masterpiece, Antiques Roadshow, Frontline, Nova, American Experience, Arthur, Curious George, and more than a dozen other prime-time, lifestyle, and children's series. WGBH's television channels include WGBH 2, WGBH 44, and the digital channels WORLD and Create. WGBH TV productions focusing on the region's diverse community include Greater Boston, Basic Black, High School Quiz Show, and Neighborhood Kitchens. WGBH Radio serves listeners across New England with 89.7 WGBH, Boston Public Radio; Classical New England; and WCAI, the Cape and Islands NPR® Station. WGBH also is a major source of programs for public radio (among them, PRI's The World®), a leader in educational multimedia (including PBS LearningMedia™, providing the nation's educators with free, curriculum-based digital content to meet the needs of 21st-century learners), and a pioneer in technologies and services that make media accessible to the 36 million Americans who are deaf, hard of hearing, blind, or visually impaired. WGBH has been recognized with hundreds of honors: Emmys, Peabodys, duPont-Columbia Awards…even two Oscars. Find more information at wgbh.org.