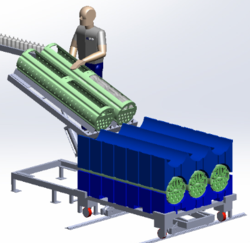 Our Stackable Tolling Baskets Pallets were designed to meet the most challenging material handling requirements; as well as provide the flexible leasing platform so that more companies can benefit from HPP now
White Pigeon, MI (PRWEB) June 28, 2013
It is the goal for every company to find the highest quality solution at the lowest possible cost, that helps them achieve their food quality standards. It is the goal of every company to minimize post-production product handling ("touches") as close to zero as possible. The majority of companies, utilizing HPP today, whether in house or through a tolling partner, are double and triple handling their own products. Every touch is an opportunity for product damage. In the food industry, additional product touches also introduce potential food safety concerns. Up until now, there has been only one way to process your product through HPP;
1) Load from production into a container [1 touch],
2) Load product from the container into HPP baskets and process [2 touches],
3) Unload product from HPP baskets (3 touches),
4) Pack and ship product (4 touches).
This all occurs before retail.
All Natural Freshness is pleased to announce a low cost solution to help every food manufacturer implement High Pressure Pasteurization while maintaining current post-production product touches or less. Fewer product touches means less potential product damage. ANF recently announced the Stackable Tolling Basket Pallet solution; the utmost cost effective and durable material handling solution. To allow more companies to benefit from High Pressure Processing, All Natural Freshness now offers a Stackable Tolling Basket Pallet Leasing Program to help every level of food manufacturer implement HPP immediately.
Pallet rental and leasing is becoming popular in the food industry [Source: Eco-Efficiency Center, 2008 ]. All Natural Freshness's top quality, reusable basket pallets are now available to customers on a rental basis. The leasing program is especially suitable for the following:

Additional Baskets to cover the peak season production demand
Small production scale operators can implement HPP immediately
Phase in HPP automation with Initial automation stage – manual material handling
Ready to HPP product, but not ready for large capital expenditure
Low upfront capital cost requirement
The leasing program is a preferred option where investing capital is either un-planned, or not possible.

Regularly receive the newest, most innovative baskets
Low cost of entry and continuing operation
Protects your vessel, by minimizing the introduction of lodged debris
All Natural Freshness designed material handling solutions to seamlessly integrate into operations with HPP at the end of production, across the street from the HPP machine, or 50 miles away from the HPP machine. "We designed the light weight, user friendly, Stackable Tolling Pallets to give food manufacturers who are High Pressure Processing in-house and food manufacturers sending the product to an HPP Tolling facility the ability to drop their post-production touches right back to zero," comments Jon Jurhs, Vice President of Business Development.
All Natural Freshness recommends that food manufacturers load product directly from production, into their standard Removable End Cap HPP Baskets, then load up to 6 fully loaded ½ baskets onto the Stackable Tolling Pallet for transport. The Stackable Tolling Pallets are perfectly sized for freight and are also equipped with steel casters for inter-facility handling allowing companies to eliminate double and triple handling, reduce operating costs, reduce damaged product, and deliver the highest quality product.
"Our Stackable Tolling Baskets Pallets were designed to meet the most challenging material handling requirements; as well as provide the flexible leasing platform so that more companies can benefit from HPP now" states Gerald Ludwick, CEO. All Natural Freshness' Stackable Tolling Baskets Pallets assures that you implement best in class HPP material handling, while maintaining the highest level of financial flexibility.