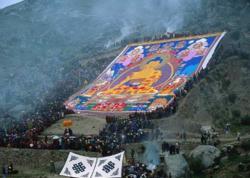 We also adjusted our Tibet Group Tour itinerary during the festival to ensure all clients will explore the unique cultures of this traditional festival. -- Tashi
(PRWEB) June 29, 2013
WindhorseTour, a Lhasa-based travel agency, is pleased to announce Shoton Festival, one of the grandest traditional festivals in Tibet, will be held on 6th of August. To celebrate this arrival, they have designed a 2013 Shoton Festival tour with several activities in Lhasa for clients to participate in the celebration with the locals.
"This remarkable trip will start on the 4th of August and last for 9 days. The itinerary can be easily tailored to fit our clients' vacation schedule. We also adjusted our Tibet Group Tour itinerary during the festival to ensure all clients will explore the unique cultures of this traditional festival," Tashi, a travel adviser at the Lhasa office of WindhorseTour expressed.
En route over this Shoton Festival tour, clients spend 4 days in Lhasa to celebrate this holiday. On the first day (6th of August) of the festival, they will join with the locals to head to the Drepung Monastery. This early morning the 500 sq. m. (598 sq. yd.) painting of Sakyamuni will be gradually unfold on the hillside in the back of the monastery. This ceremony is called 'Buddha basking in the sun'.
Other activities during the festival include watching a yak race show at the Lhasa Race Course and a Tibet opera at Nobulingka. Travelers will sit on the mats with the locals, drink butter tea and chang, taste dessert and watch the opera while waving the prayer wheel or holding a rosary in hand.
Regarded as two of the most important activities to celebrate the Shoton Festival, the Thangka unveiling ceremony and the Tibet opera have already been held for over 300 years. However, the festival itself is much more ancient, which can be dated back to the mid 11th century.
The name Sho refers to yogurt, and Ton means banquet and eating in local Tibetan language. The Shoton Festival was originally an utterly religious event for local people to sacrifice yogurt to monasteries.
As a bonus, in the second part of this festival tour, clients will drive to Nagchu to attend another traditional festival, the Horse Racing Festival held by Nagchu local people. Dressing themselves and their finest horse, thousands of herdsmen will participate in the thrilling horse race, archery and horsemanship contest during the festival.
WindhorseTour specializes in creating tailor made experiences based on every client's unique needs and operating groups to all provinces in China. Please visit WindhorseTour.com for more information or contact them.
Email address: news(at)windhorsetour(dot)com
TEL: (+86)-28-85593923, (+86)-28-86254701
Fax: (+86)-28-86254710