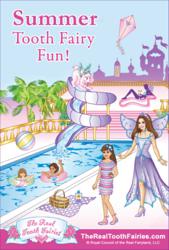 The Tooth Fairy brings fairy magic to all the events in a girl's life – including summer vacation.
Wilmington, NC (PRWEB) June 28, 2013
The Royal Council of the Real Fairyland announced today the unveiling of their new interactive site features for millions of girls around the world - just in time for the sizzling summer season. Their tooth fairy website - http://www.therealtoothfairies.com - has just added hot new fairy fashions, delightfully cool castle decorations and more!
"The Tooth Fairy doesn't just bring surprises for a lost tooth," says Marilyn Bollinger, President of the Real Tooth Fairies, LLC. "She brings fairy magic to all the events in a girl's life – including summer vacation." In the world of the Real Tooth Fairies, every girl can spend endless hours in imaginative play. Girls – or Earthies as they are called by the Tooth Fairies – will be chilling this summer in their castle hotel rooms with new fairy decorations, like a hang-ten surfboard, bouncing beach balls with wings and floating beds with tropical fish.
Add to that endless creative dress-up play with a girl's avatar in every kind of hot new summer outfit, and you have a formula for firecrackin' fun that girls love. Earthie girls will be delighted with new fashions like under-sea sundresses, Hawaiian hula headbands and fun-in-the sun swim cover-ups that they wear as they float down the magical streets of Real Fairyland.
But the fun doesn't stop online. In keeping with the true interactive nature of the The Real Fairyland website, Earthie girls in the real world might receive some fun summer surprises from their Tooth Fairy (with the help of their parents) under their pillows. The surprises could include a book from the award-winning Tooth Fairy book series or a My Grateful Heart box, a satin heart jewelry box in which a girl places written cards about what she is grateful for. All these footh fairy treasures are available at: https://shop.therealtoothfairies.com.
Earthie girls also love to find a letter on their pillow that's been personalized from their very own Tooth Fairy. The letters congratulate girls about new things they are proud of doing, or great sports moments. To help girls over the bumps of growing up there are also Tooth Fairy letters about having a hard time or making friends and, of course, lost tooth letters.
But this Interactive Fairyland Summer Season is more than just decorating, dressing up and receiving gifts. Says Bollinger: "It's also a chance to spread kindness." That can best be accomplished through the very popular award-winning Kindness program at the site and the companion Kindness Kits found at:
https://shop.therealtoothfairies.com/index.php?p=catalog&parent=33&pg=1
"Spreading kindness is a wonderful way the Real Tooth Fairies can team with Earthie girls to make a positive difference in the world," says Bollinger.
"Girls get inspired by this program to move up eight Kindness Levels as their summer project and in the process, they make the summer special for everyone."
About The Real Tooth Fairies
The Real Tooth Fairies are represented to Earthies by the Royal Council of the Real Fairyland, LLC, an entertainment company dedicated to excellence in programming and interactive media. Their consumer products inspire imagination, foster creativity, and encourage children to spread kindness and change the world. The Real Tooth Fairies focus on character-building through positive role models, the 20 Lost Tooth Virtues, and Every Kindness Counts. In addition, a school kindness program involves students in a program where kids are heroes for kindness in their family, school, and community while supporting a global charity.
Marilyn Bollinger, President of The Royal Council of the Real Fairyland, LLC, is the author of 30 Disney books and has consulted for LeapFrog, Fisher-Price and other top children's companies. As a licensed clinical social worker, she practices family and children's therapy and is a leader of parenting workshops. And of course, she's honored to be the Earth's ambassador to all things Real Fairyland, where Love is Magic and Every Kindness Counts!
Learn about the Real Tooth Fairies at http://www.TheRealToothFairies.com/guest-services/about-us.
Girls can Get Matched to their Tooth Fairy at http://www.TheRealToothFairies.com/registration.
Girls can ask their tooth fairy to fly personalized tooth fairy letters to their pillow at http://www.TheRealToothFairies.com/ask-magic-letters.
Shop for treasures at The Real Tooth Fairies Magic Street Shops at https://shop.therealtoothfairies.com/
To spread Kindness in your family today go to http://www.therealtoothfairies.com/kindness.
Parents, to arrange for a personalized Tooth Fairy letter on your girl's pillow go to http://www.therealtoothfairies.com/for-parents/magic-letter-login