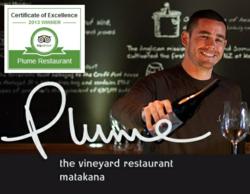 ...only the top 10 percent of listed establishments on the TripAdvisor website are eligible to receive this distinguished accolade.
(PRWEB) June 29, 2013
Plume Vineyard Restaurant in Matakana has earned a prestigious award by well respected travel and hospitality information and review website "TripAdvisor".
The "Certificate of Excellence" award is gifted to establishments that consistently achieve outstanding traveller reviews on TripAdvisor and only the top 10 percent of listed establishments on the TripAdvisor website are eligible to receive this distinguished accolade. Plume Vineyard Restaurant is now entitled to display the Certificate of Excellence badge on their website to advise visitors to the site of the well deserved achievement of this Matakana Winery. Some of the rave reviews Plume Restaurant has received on the TripAdvisor website include statements such as "..it was one of the loveliest weddings we have ever attended", "overseas visitors also commented what a lovely venue it was for a wedding", "Service was great, everything was as depicted on the menu. No worries, no hassle" and "Plume was recommended by our travel agent and was beyond our expectations. The best experience we've ever had, foodwise and ambience. Recommended for all."
The Certificate of Excellence award has come as no surprise to those who have been lucky enough to savour the fine wine, fine dining and superb atmosphere that Plume Vineyard Restaurant has to offer. Not only does Plume Restaurant cater to those looking for fine dining in a warm, relaxed and scenic venue, they also cater to those wanting to indulge in a bit of wine tasting as well as those who are after a classic and unbelievably atmospheric venue for their wedding.
To date, Plume Vineyard Restaurant already has at least 20 confirmed bookings for the upcoming wedding season and are urging those who are considering hosting their wedding with Plume to make sure they don't leave it too late before getting in touch, especially now that they have been officially recognised for their fine service.
Plume Restaurant is located in Matakana which, although is just a short 50 minute drive from central Auckland, radiates a tranquil vineyard atmosphere. They are known for their superb wine, fresh gourmet New Zealand Cuisine, stunning views and a pristine environment which is perfect for either special functions or for those merely after an exciting dining experience. They are well known also for their reputation of having one of the top wedding venues around the Auckland area which rests on a part of their boutique vineyard, Runner Duck Vineyard Estate.
Plume Restaurant can be contacted on +64 9 422 7915.