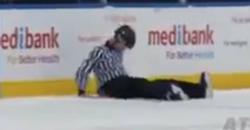 Officials should be viewed as their own 'team'. They should be cleared to participate just like the student-athletes.
White Plains, NY (PRWEB) June 28, 2013
Since January, 2013, certified athletic trainers (ATs) have helped save the lives of three officials in three different sports across NYS. In all cases, the individuals were experiencing immediate, potentially fatal cardiac episodes and, fortunately for all three of these individuals, an AT was present to respond appropriately, ultimately contributing to their survival.
On January 4, 2013, Melissa Hudecki, ATC, certified AT with Catholic Health AthletiCare in western NYS, initiated CPR, including the use of an automated external defibrillator (AED), on a referee who collapsed during a boys' basketball game.
Just over a month later, on February 7, 2013, Ellen Bastoni, ATC, of Eastchester High School, was able to help revive a girls' basketball official who went into cardiac arrest on the court, also applying an AED within minutes of his collapse. Bastoni was assisted by her athletic director, who, fortunately, was also certified to perform CPR.
Then, on April 7, 2013, a girls' lacrosse official, went into cardiac arrest while working at a tournament. Carol Guzinski, ATC, of North Rockland High School, with the help of staff and a local Cardiologist, was able to deliver a shock with an AED and revive the official.
Thankfully, each of these situations had a positive end result for the officials involved, which is due, at least in part, to appropriate medical care - a certified athletic trainer - being on-site to initiate timely and skilled emergency care. But these circumstances, as well as any number of unreported situations where officials sustain sport-related injuries while working, also raise significant concerns related to officials and healthcare.
Job-related healthcare for sports officials is often overlooked, especially at lower levels of competition. If an event is lacking appropriate medical coverage, like a certified athletic trainer, not only are the student-athletes at greater risk, but so are the officials working the event. The national average of high schools that have access to an AT is roughly 42%, and this number is markedly lower in NYS.
Compounding this issue further is that, in most cases, officials are not required to undergo the pre-participation examinations (PPEs) and screenings required of student-athletes, though their job can be just as physically strenuous. At most levels, there is no system in place to monitor the baseline health, injury management, and health status of officials, let alone help with any of these areas.
Within the last decade, the NBA has realized the deficiencies in this area and has set up a comprehensive system for monitoring and assisting with the healthcare of their officials. This effort was lead by former NY Knicks athletic trainer, Said Hamdan, MS, ATC, who developed the system and serves as the Medical Coordinator for the NBA's referees.
"Professional sports organizations have identified this as an important issue," states Hamdan. "Officials should be viewed as their own 'team'. There should be a system in place to monitor their physical condition and make sure they are healthy enough to officiate – they should be cleared to participate just like the student-athletes." Hamdan emphasized that this need not be limited to professional sports or full-time officials, but that even part-time officials can benefit from some type of organized healthcare system or protocol from their hiring body, such as a conference, league, or school district.
A lack of preventative PPEs and post-injury management, as well as the possibility of little to no appropriate on-site medical care, can create a perfect storm of circumstances for a life-threatening episode to have more dire results. Taking preliminary steps to assess the health of officials prior to their participation and providing a certified athletic trainer during events is vital to ensure the best possible healthcare for officials and student-athletes alike.
NYSATA, founded in 1976 and incorporated in 1989, stands to advance, encourage and improve the profession of athletic training by developing the common interests of its membership for the purpose of enhancing the quality of healthcare for the physically active in New York State. Comprised of over 1,200 certified and practicing athletic trainers, NYSATA is the state-wide affiliate of the regional Eastern Athletic Trainers' Association (EATA) and District Two of the National Athletic Trainers' Association (NATA).