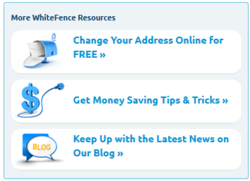 Houston, TX (PRWEB) June 28, 2013
Today, WhiteFence announces a brand new resource tool box that displays three useful informational links for consumers to utilize. The tool box provides access to three savings resources: a free change of address utility, a content library of money saving tips, and a blog full of the latest new on home services and utilities. This tool box can be found on WhiteFence.com between the recently launched home utilities index and price tracker widgets.
The change of address form tool lets consumers file a no-cost official change of address request with the USPS. WhiteFence has partnered up with Updater.com, an online service that helps consumers manage the moving process from start to finish. The process to change an address is a simple three steps and takes only a few minutes to complete. Users enter their old address, new address, name, the date they plan on moving, who's moving, and if it is permanent or temporary. Once that is complete, consumers can check out exclusive offers, and then update their magazine subscriptions as well as any other accounts. This is a safe and secure service offered without charge.
The content library information.whitefence.com is full of helpful articles, tools, and tricks from WhiteFence's savings experts. The channel is broken up into these categories: bundles, Internet, phone, television, electricity, natural gas, home security, moving, green energy, and local resources. Each category is filled with useful tips and tricks to help save the consumer money on that specific product and leverages WhiteFence's extensive experience in the industry.
The blog savings.whitefence.com distills all of the latest news for consumers looking to lower their bills. This page is also separated into categories for easy searching. All of the categories from the content library appear, with additional news and tips about other ways consumers can save money. This blog is updated once every week so that consumers are equipped with the latest information.
Utilizing this resource tool box is definitely a must for those consumers looking to save money on home utilities as well as in other various aspects of their lives.
ABOUT WHITEFENCE
WhiteFence is a free service that helps homeowners and renters compare, connect and save money on phone, internet, television, electricity, natural gas, and other home services. By simply entering a street address onto the secure site, people looking to save money or start new service can find the most comprehensive list of plans available for their specific address from over 300 nationally recognized partners. As a trusted home service shopping source for 20 million people annually, WhiteFence makes it easy to establish service directly on the site in a few simple steps. WhiteFence is an Internet Capital Group partner company. WhiteFence is headquartered in Houston, Texas. For more information, please visit WhiteFence.com.