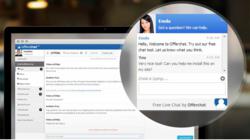 Bargain price coupled with superior, personable customer service makes the sale successful.
(PRWEB) June 28, 2013
Hunting for deals, promos and discounts is a leading activity among majority of online shoppers. Online shoe sale sites with a streamlined instant communication channel on page shoppers can use while viewing items brings about convenience that could easily translate to transaction completed.
With online shoe sale eCommerce sites in mind, Offerchat, a provider of live chat for business, is on the verge of releasing a reinvented chat platform complete with a user-friendly interface and a less-cluttered customer-facing live chat widget.
The chat widget itself can be embedded easily on any shoe retail web-store and in every page on the lower right, ready to be used by shoppers viewing the site. The customer-facing chat widget can be fully customized to match any website's look and feel.
Some of the customization options available are:

Widget style and form
Color and gradient
Display language
Name, greetings and labels
Widget position (lower right or left)
Customization controls for the widget can be accessed by logging into the web based dashboard of the live chat. While shoppers chat through the chat widget, shoe retailers can reply through the dashboard.
As one goes online in the Offerchat dashboard, the corresponding chat widget on the chat will appear online signaling to shoppers viewing the site that somebody is available to chat in real time to assist them with their questions and inquiries.
With competition in online shoe retail advancing to cut throat levels, having a live salesperson available right at the moment shoppers need them does wonders to the kind of customer experience an eCommerce store provides.
Bargain price coupled with superior, personable customer service makes the sale successful.
For more information on how live chat can help eCommerce marketing campaigns a success, visit the official Offerchat blog.
About Offerchat
Offerchat live chat is for online retailers, sellers and software as a service companies who must convert more visitors to actual buyers and users. It is a new way of handling live chat by providing not only a powerful free tool, but also the train staff to man the chat for you. Unlike other live chat companies, Offerchat has well trained live chat agents to staff your chat to help you close more sales.