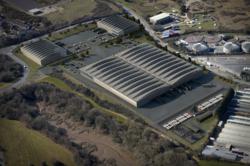 This investment is a concrete demonstration of the growing confidence in Plymouth. PEP has the potential to aid Plymouth's growing economy by providing new jobs and attracting more investors to the city
Devon (PRWEB UK) 28 June 2013
LDT, which has a history of regenerating industrial sites across the region successfully, has already attracted interest in the 255,000 square feet of industrial and business space available at the newly formed Plymouth Enterprise Park (PEP).
Daniel Stephenson, Managing Director, LDT, stated: "The launch of PEP is a significant step for the company as it is our first site in Plymouth. We are confident this is the right time to invest in the city with its profile rising as an important strategic regional hub. The location of the park offers excellent transport links, seconds from a junction to the A38 gateway to the region and significantly just one junction away from the port.
"The growing trend of manufacturing businesses looking to bring their operations back to the UK and the proximity of the port, make Plymouth increasingly appealing as a choice business location."
The brownfield Ernesettle site previously housed a manufacturing facility that was carefully removed by LDT to provide levelled land ready for development. Now the company is targeting those businesses looking to expand or relocate.
Mr Stephenson explained: "The fact that the site is ready to go, levelled and easily accessible means we have received tremendous interest from a broad spectrum of businesses in the manufacturing, logistics and food distribution industries. Contracts have already been signed with the first occupiers and we expect to welcome them onto the site imminently.
"A further benefit of PEP is the neighbouring major grid transformer that has the potential to provide a significant and secure power supply - an increasingly important factor for business operators."
Fulcrum Power is also proposing to site a generation facility at PEP to support the continuing security of power to the region.
Mr Stephenson commented: "The presence of a Short Term Operating Reserve (STOR) at PEP proposed by Fulcrum Power will provide an essential transitional role in supporting the generation of power as the UK heads towards its renewable energy targets for 2020. It will provide back-up power for those times of high usage and cover the intermittent periods that natural energies such as wind power will experience."
The generation unit will utilise one acre of the 22 acre site and it is anticipated will be in use between four and five per cent of the year in its capacity as a standby reserve.
LDT has successfully redeveloped several commercial sites across the South West including Marsh Barton Industrial Estate in Exeter, the Tiverton Trade Centre, Mid Devon Business Park and at the Royal Portbury Docks in Bristol.
Commenting on the importance of the Plymouth investment, LDT's property agent Phillip Kerr stated: "This investment is a concrete demonstration of the growing confidence in Plymouth. PEP has the potential to aid Plymouth's growing economy by providing new jobs and attracting more investors to the city. Nationally there has been a trend towards reducing food miles and we expect to see more enquiries from those companies looking to satisfy food production, storage and fulfilment more locally.
"Overall we anticipate Plymouth will experience more footloose enquiries with the likes of Amazon which operates distribution centres in areas such as Swansea considering similar opportunities that PEP now provides for Plymouth."
Ends