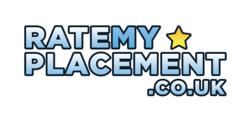 A Grant Thornton Audit Intern commented, "The skills I have gained will give me so much more confidence when starting work as a graduate."
(PRWEB UK) 28 June 2013
As seen in the upcoming Hollywood blockbuster, 'The Internship', internships are hard fought for and increasingly valuable for securing the first job of your dreams. The UK internship market is no different, with RateMyPlacement.co.uk announcing the UK's top ten internship employers as rated by students themselves.
While Google gets the fictional spotlight in 'The Internship', Bloomberg LP has been found to be the most enjoyable real life internship experience for students in the UK. And, the business and financial market news site was rated the employer at which students feel they are given the greatest responsibility – something valued by students when seeking future job prospects.
The results, from June 2013, show that financial services firm, Grant Thornton, comes out on top when looking at all criteria, including enjoyment in the role, level of support given, skills learnt, and company atmosphere.
A Grant Thornton Audit Intern commented, "The skills I have gained will give me so much more confidence when starting work as a graduate. I have a much better understanding of the role I will be doing as I gained an invaluable insight into what working for the company truly involves. Everyone I worked with was incredibly welcoming and helpful, I was really accepted as part of the team.
The full Top Ten is as follows*:
Position, employer and ranking (out of ten)
1 Grant Thornton, 8.66
2 BDO LLP, 8.32
3 Bloomberg LP, 8.25
4 Barclays, 8.22
5 BP, 8.16
6 J.P. Morgan, 8.08
7 Cushman & Wakefield, 8.07
8 PwC, 7.94
9 Deloitte, 7.92
10 Towers Watson, 7.92

Based on student reviews from 1st January 2012 to 27th June 2013.
To go alongside these results, RMP has suggested eight top tips to help students in the UK secure an internship:
1. Research and identify organisations to focus on, rather than applying to loads – fewer, carefully considered applications will increase your chances
2. Apply early and tailor your application to the internship
3. Get under the skin of the companies you're applying for – demonstrate knowledge and understanding of their culture and values
4. Think about how appropriate your experience and personality is for the role and company
5. Mirror the way in which employees at the organisation dress and communicate, as first impressions count
6. Network with potential employers who you've met, perhaps on campus or at events, on social networking sites – most organisations have official Twitter handles and LinkedIn groups
7. Don't be afraid of rejection – it may take a few applications before you find the right role to suit you – keep a positive mind and learn from your mistakes
8. And from watching 'The Internship' we all know that it's "not a job job. It's an interview for an internship that could lead to a job" so bear this in mind
ENDS
About RateMyPlacement
RateMyPlacement.co.uk was founded in 2007 by three university students who were unable to find a trusted source of information to help them research placement and internship opportunities. Today RateMyPlacement.co.uk receives over 1.5 million student visitors each year and is home to over 16,000 student reviews, each one rating and ranking placement and internship experiences at over 2,000 UK companies, allowing students to make better informed decisions when choosing which companies to apply to.
About RMP Enterprise Ltd
Through online, offline and on-campus products and services, we allow clients to engage with, attract and recruit career conscious students. Our flagship product RateMyPlacement.co.uk is part of a growing portfolio consisting of; the annual 'A Students' Guide to the Top Placement and Internship Employers' publication and Top 50 Employers' league table, the National Placement and Internship Awards and On-Campus Promotions, which helps employers deliver recruitment and marketing campaigns to students. The award-winning young entrepreneurs were named London winners of Barclays 'Take One Small Step' competition in 2011 and have a team of 20 graduates and placement students themselves.